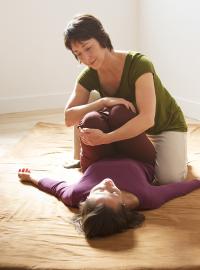 The very best introduction to Breema is through a direct experience. We hope you will find an opportunity to receive Breema bodywork from one of the many Certified Breema Practitioners around the world, and also to experience first-hand how nurturing it is to participate in a Breema class or workshop, where you can learn to do Self-Breema exercises and Breema bodywork.
You will find the format and atmosphere of every Breema class welcoming, and particularly helpful in assimilating the Nine Principles of Harmony and the bodywork and exercises in a natural and enjoyable way. Breema's philosophy and principles are totally practical and can support us not only while practicing Self-Breema exercises and Breema bodywork, but also in every activity in life.
In our classes and workshops, students gain a first-hand, experiential connection to the Nine Principles, which enables them to practice the simple Breema partner sequences with others to their own—and the recipient's—mutual benefit.
No prior experience is necessary, nor does one need great physical dexterity or flexibility. Each bodywork sequence can be adapted to suit the condition of both the practitioner and the recipient.
Receiving a Breema session is nurturing, relaxing, and enlivening. Lying down fully clothed on a padded floor, you experience the atmosphere that results from the practitioner's every touch and movement being guided by Breema's Nine Universal Principles of Harmony.
Receiving Breema provides a strong experience of safety and well-being, and a tangible feeling of physical, mental, and emotional relief—one often feels a sense of security because of the way Breema connects us to an overarching universal harmony.
Other very common experiences resulting from receiving even a very short Breema session include lessened pain, increased flexibility, decreased anxiety and worry, and more energy. There is often the sense that "this is the way life is supposed to feel!"
Breema is adapted to suit each recipient's body, so the treatments are always done without any use of force, and therefore are safe and nurturing.
Answers to a few other common questions
Breema is not derived from any other method. One may find certain movements that are visually reminiscent of elements of other modalities, but the underlying philosophy that inform Breema's movements and quality of touch make even those something unique to Breema.
The primary purpose of Breema is to support us to become present and raise our level of consciousness by unifying our body, mind, and feelings. Breema supports harmony with Existence. That is real health in its most complete, most essential sense.
We invite you to experience Breema and look forward to meeting you!