Hardcover Book
9.25% CA tax where applicable.
160 pages
5"x7.25"
e-Books
Audio recording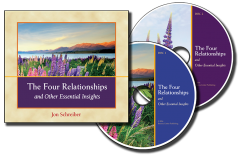 9.25% CA tax where applicable.
In a two-CD set read by the author, 126 minutes running time

The Four Relationships—our relationship to the body, our relationship to the outside world, our relationship to ourself, and our relationship to our True nature—provide a universal framework that enables us to usefully relate to the ingredients and issues of our life, and to find a meaningful posture and approach to the questions life places in front of us. This book explores the principles and philosophy of Breema.