Hardcover Book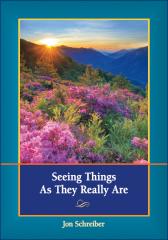 9.25% CA tax where applicable.
192 pages
You can only see things as they really are when you see yourself as you are in relation to them. It means to see things as a part of your existence, not as separate phenomena. Existence is one unified whole—nothing separate exists. There is one life force, and it enters into everything that has been created. That means it also flows through you. When you are present, you experience it.
Truth is the experience of the truth in the moment. But the meaning of the word "experience" is also not what we think. It's not just something you go through in time. It's that and the experiencer, and the process of experiencing, all together in unity. It includes time, but is Timeless. It's the unification of knowledge and Being.