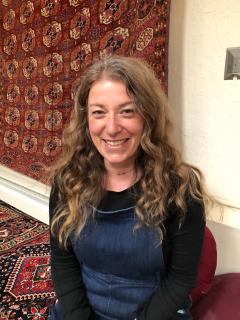 Certified Breema Practitioner
Certified Self-Breema Instructor
Certified Breema Instructor
The Polyvagal Coach
Online Company
Oakford, PA 19053
United States
With over 25 years of experience in working directly with clients and thousands of hours of training and certifications in multi-disciplinary subjects, Alecia brings into session a wealth of knowledge to support you in the specific direction your body and mind need. This means she draws upon not only the brain heavy, science-based work and study, but also a hands-on practice where she worked 1:1 with clients in direct physical support for many years. And… She may have a little French Bulldog colleague name Odessa that may pop into your session from time to time. Odessa has 1 year of experience supporting people in session via Zoom.
* I am a certified Coach through JRNI Coaching School and through the Trauma-Informed Certification Program with the leader in this field Mastin Kipp. I specialize in blending this training alongside of my 25+ years of experience as a hands-on practitioner in the modalities of Therapeutic Massage, Aromatherapy, Sound Therapy, Jin Shin Do Bodymind Acupressure and Breema and Self-Breema Bodywork. This blend has created my specific form of coaching which includes education on how the Body, Mind and Feelings ALL contain information that will support you to access more freedom of choice!
I am truly grateful to be Here. In This Moment. As often as I am able to remember.
Alecia S Baker

The Polyvagal Coach
Online Company
Oakford, PA 19053
United States