Image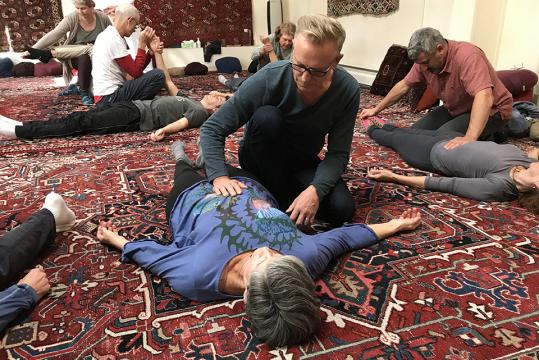 Breema bodywork, Self-Breema exercises, and the Nine Principles of Harmony are natural expressions of the unifying principle of Existence. They provide ideal support for practicing body-mind connection and the art of being present. Both new and experienced students from around the world come each year to study at Breema Intensives and to benefit from Breema's practical approach to living harmoniously.
More information:
Course Dates and Prices
BEGINNING WEEKEND (all levels) 
July 11 - 12  $170  14 hrs. ($155 until June 24)
($140 for first-time Intensive attendees)
3-DAY COURSE (all levels)
July 11 - 13
$235 19.5 hrs. ($215 until June 24)
($195 for first-time Intensive attendees)
7-DAY COURSE (all levels)
July 11 - 17  $480 40 hrs. ($440 until June 24)
($400 for first-time Intensive attendees)
PRACTITIONER WORKSHOP (included in the 7-Day Course)
July 16
$60 6 hrs. (included in 7-day course)
(No charge for Certified Practitioners)
POST-INTENSIVE WORKSHOP
July 17  2:00 - 5:00 pm 
Life Giving to Life  •  $30  •  3 hours
Workshop for students with 50 or more class hours
INSTRUCTOR DAY
Saturday, July 18
For Certified Instructors only.
No charge.
Continuing Education
Continuing Education information for massage practitioners and bodyworkers, California registered nurses, and California LMFTs, LCSWs, and LPCCs.
Accommodations
Accommodations and meals are not included in the tuition. You may request our information about finding accommodations in the area in local hotels, bed & breakfasts, and via Airbnb.
Please feel free to call 510-428-0937, fax 510-428-9235, email us at [email protected] or write for further information. You can also use the Registration Form to register by mail or fax.