Image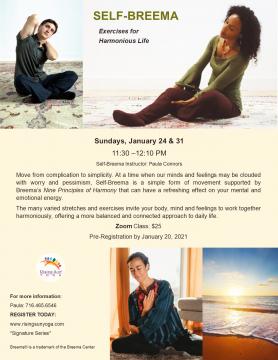 Zoom Self-Breema Workshop
This online event begins at 1:30pm PST, 4:30pm EST, 22:30 CET, 23:30 IST.
Happy New Year...
Please join me for a two-part Self-Breema series on Sundays, January 24 and 31, 2021 from 11:30 until 12:10 PM (yes, you will still be able to watch the Buffalo Bills). Please open the attached flyer for all the details.
Self Breema exercises can be done on your own body anywhere, at any time, in ordinary clothing. In each class, we will learn and practice Self-Breema exercises to apply and experience Breema's Nine Principles of Harmony, and to become more present. These exercises are a practical way to practice body-mind connection, which can then be brought to all the activities of your day. 
Kindly pre-register or let me know you will be attending before January 20, 2021. Visit www.risingsunyoga.com and click on Signature Series to register.
A Zoom link will be sent to your email 30 minutes prior to the sessions.  If you need any further assistance, please let me know.
Instructor