Image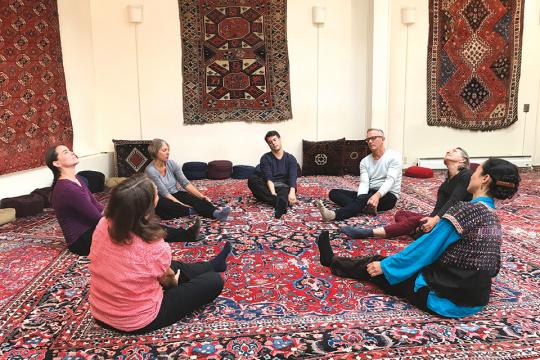 15 minutes Self-Breema - 15 Minuten Selbst-Breema englisch/deutsch
This online event begins at 11:00pm PDT (previous day), 2:00am EDT, 8:00 CEST, 9:00 IDT.
Der Workshop beginnt um 8 Uhr europäischer Zeit
Class begins at 8:00 European Time, 9:00 Israel Time,

11:00 pm Pacific Time (the day before)
Wir öffnen den "ZOOM" Raum einige Minuten vor Beginn, bitte haben Sie ein wenig Geduld. Vielen Dank! Für die Teilnahme klicken Sie bitte auf die blaue Schaltfläche ("Register here for the event") und folgen den ZOOM Anweisungen.
We open the "ZOOM" room a few minutes before the start. Please have a little patience. Thank you! To participate, please click on the blue button ("Register here for the event")  and follow the ZOOM instructions.
"Wenn Sie Breema machen, lassen Sie sich von der Freude des Daseins begleiten. Seien Sie so einfach wie Sie können."  Breema und die neun Prinzipien der Harmonie  - von Jon Schreiber -
"When you do Breema, let the joy of Existence be present with you. Be as simple as you can."  Breema and the Nine Principles of Harmony  - by Jon Schreiber -
Instructors
Raffaela Then, geb. 1987, ist Heilpraktikerin für Psychotherapie, Facilitator für Frauenkreise und Workshops zu Körper- und Stimmarbeit. Sie lebt und arbeitet in Berlin. Seit ihrer ersten Begegnung mit Breema in 2012 hat sie die Erinnerung an diesen direkten Zugang zu innerer Einheit, Klarheit und Lebensfreude nicht losgelassen, so dass sie seit 2018 Breema intensiv in ihr Leben integriert hat. In Berlin organisiert sie seit 2019 Breema-Workshops mit verschiedenen Breema-LehrerInnen an der...