Image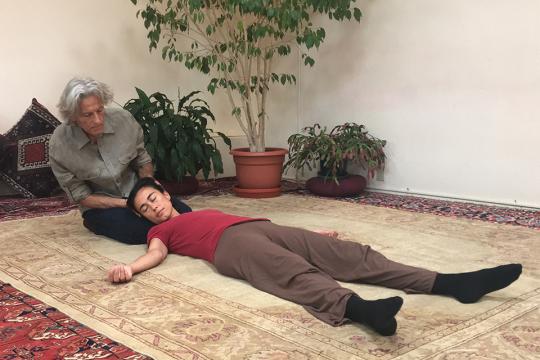 Breema: The Art of Being Present
---
Breema – The Art of Being Present 
Breema is a body-centered, holistic approach to being present. It uses floor-based bodywork, movement exercises, and the Nine Principles of Harmony to unify body, mind, and feelings and raise our level of consciousness.

Breema's natural movements and non-judgmental approach introduce us to a unique quality of touch that is a direct expression of our degree of presence. When we are present, we enjoy a more open-hearted and balanced relationship with ourselves, others, and all life.

Breema's philosophy is based on a profound understanding of the underlying unity of all life. Practicing Breema creates an experience of dynamic balance that is deeply nurturing, vitalizing, and beneficial for both giver and receiver.

This workshop is a wonderful opportunity for movement enthusiasts, bodyworkers, dancers, and anyone interested in the art of being present and a deeper understanding of life that supports harmony and wholeness in themselves and others.
Breema bodywork, Self-Breema exercises, and the Nine Principles of Harmony offer a practical and accessible way to take step after step towards a more harmonious relationship—with yourself, the people around you, and with life as a whole. In these workshops, you will learn treatments and exercises that can become lifelong friends and allies. Whether it's your first exposure to Breema or you come with some previous experience, you will have the opportunity to discover or deepen your connection to a new and meaningful way of moving and relating that can enrich every aspect of your personal and professional life.
Date & Time:
Saturday, November 13: 10:00am-1:00pm & 3:00-6:.00pm
Sunday, November 14: 10:00am-1:00pm
Price: 
$40  Single workshop (either Saturday or Sunday)
$100 Full weekend
Registration: 
Alexis Mulhauser, yoginialexis@gmail.com 
(510) 424-1515
Instructor
Director of the Breema Center and Breema Clinic
Jon Schreiber, D. C., director of the Breema Center and Breema Clinic in Oakland, California, has been teaching Breema in the U.S. and internationally since 1980. He has presented Breema at medical, psychology, bodywork, exercise, holistic health, and personal growth conferences. His numerous articles and books focus on the universal and practical philosophy of Breema. In his clinical practice, Dr. Schreiber uses Breema, Self-Breema, and the Nine Principles of Harmony to help patients discover...