Image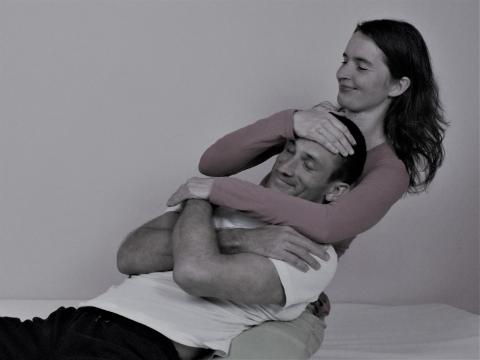 ENJOY THIS MOMENT
Wir möchten "BREEMA-Die Kunst präsent zu sein" praktisch und philosophisch und freudig ;-) vorstellen und mit euch erforschen. Unsere Elemente sind:  Selbst-Breema, körperzentrierende Meditation, Partner-Breema-Übungen, Reflexions-/Fragerunden und die " Neun Prinzipien der Harmonie".
Wir fokussieren uns auf jeden einzelnen Moment - immer wieder neu, um eine neue Haltung zum Leben zu entwickeln.
Vorkenntnisse braucht es keine! Jede/r ist willkommen! Paare sind willkommen!
Kosten 40 Euro pro Abend
Weitere Termine 1x pro Monat auf Anfrage!
Mitbringen: lockere Bekleidung, Socken, Matte, Decke, Kissen
Anmeldung 10 Tage vor dem Termin bei Elisabeth Michl  e.michl@gmx.at
Instructors
Practising and instructing BREEMA gives me endless and playful variations of exploring  and understanding myself by connecting my mind with the body and the feelings to receive my essential nature. Every moment gets a new, fresh and vivid invitation & expression of being human in all our dimensions of existence. I'm grateful for this nonjudgmental and nonideologic path rooted in Breema's Nine Principles of Harmony, which are simple and holistic guidelines to always come back to myself, moving...

Feel free to contact me to book a treatment