Image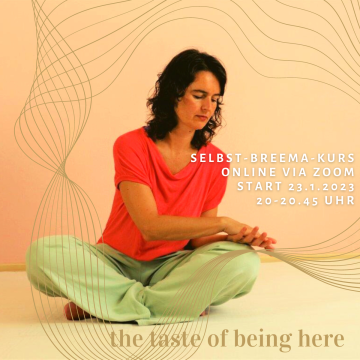 Selbst-Breema-Abendkurs online
This online event begins at 11:00am PST, 2:00pm EST, 20:00 CET, 21:00 IST.
THE TASTE OF BEING HERE
Wie kann ich mein Dasein freudig genießen?
"Enjoyment means to be present and in harmony with that which is happening" ( by Jon Schreiber, freedom is in this moment)
Ein 6 wöchiger online Abendkurs mit Selbst-Breema-Körperübungen, den Neun Prinzipien der Harmonie und körperzentrierender Meditation ist eine ideale Gelegenheit, 
• regelmäßig Beweglichkeit im Körper & Geist aktiv zu fördern
• Selbstfürsorge zu kultivieren
• den Alltag genußvoll abzustreifen  • Akzeptanz, Annahme und Neutralität zu praktizieren
• die zeitlose Natur in uns zu erleben
BREEMA®️THE ART OF BEING PRESENT www.breema.com
Kurs-Start ist Montag, 23.1.2023 um 20 Uhr
* 45 Min.via zoom
* 6 Einheiten als Kurs bis 27.3.2023
* Kursbeitrag 55 Euro bitte im vorhinein überweisen
* 5-8 Min Austauschrunde zum Abschluß
* Zusendung der Übungs-Titel jeder Abendeinheit per Email
...bitte meldet euch hier oder per Email rechtzeitig dazu an, der Zoomlink wird dann zugesendet

Ich freu' mich auf eine nährende gemeinsame Breema-Atmosphäre ♡
Instructor
Practising and instructing BREEMA gives me endless and playful variations of exploring  and understanding myself by connecting my mind with the body and the feelings to receive my essential nature. Every moment gets a new, fresh and vivid invitation & expression of being human in all our dimensions of existence. I'm grateful for this nonjudgmental and nonideologic path rooted in Breema's Nine Principles of Harmony, which are simple and holistic guidelines to always come back to myself, moving...