Image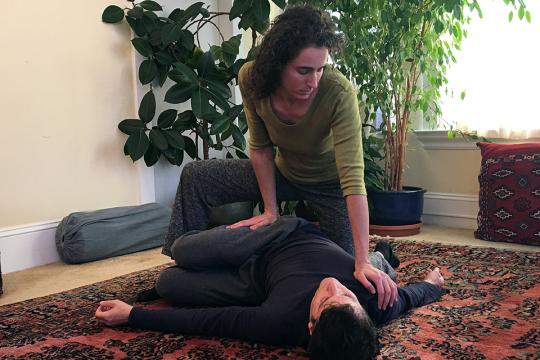 Breema bodywork and Self-Breema exercises are perfect expressions of the Nine Principles of Harmony. Over time, they introduce us to entirely new and harmonious ways to experience and respond to life. We will learn partner Breema bodywork and self-care exercises that can be practiced anywhere, any time, to decrease stress and tension, increase vitality, balance body, mind, and feelings, and support our inherent desire for a more meaningful life.
$40 if paid by January 20;  $50 thereafter. Use coupon code EARLYBIRD.
For more information please contact the Breema Center: 510-428-0937 or center@breema.com
Please wear comfortable long pants and socks. No fragrances, please. We will follow all current COVID guidelines.
3 CE hours available for massage therapists and bodyworkers, nurses, LMFTs, LCSWs, LPCCs, and LEPs. $10 fee for processing

.
Instructors
Breema Center staff
Breema Clinic practitioner
I am a Family Physician, and have been a Breema Practitioner and Instructor for over 20 years. I have found Breema's non-judgmental atmosphere to be invaluable in working with any health condition. I am consistently amazed at the effect of Breema bodywork, Self-Breema exercises, and Nine Principles of Harmony in increasing vitality, addressing acute concerns, and offering new templates for relating to body, mind, and feelings. I began working as a Practitioner at the Breema Clinic in 2002, and...
Breema Center staff
Angela has been a professional counselor since 1991 and a Breema practitioner since 1998. She specializes in holistic behavioral therapy with groups, families, individuals, as well as education, training, and clinical supervision for therapists. 
Treating people with co-occurring mental health & emotional imbalances, addictions,  and relational/ behavioral health issues, has been the primary focus of her work for the past 25 years,  as well as incorporating wellness practices via the body...
Schedule