Image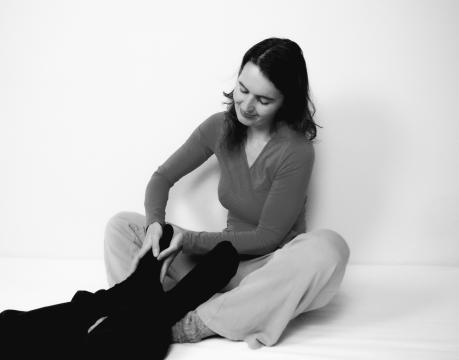 Abendworkshop in Klagenfurt
Breema®️ Die Kunst präsent zu sein
Mit dem Workshop MUTUAL SUPPORT möchte ich ein Fundament der "Neun Prinzipen der Harmonie" von Breema vorstellen. Mit vielfältigen spielerischen Einzel - und Partnerübungen zeigt sich uns Breema als eine praktische Lebenskunst, die beim Körper anfängt. Sie kann uns in jeder Situation helfen, eine wohlwollende Haltung zu entwickeln, zuallererst zu uns selbst, zu unseren Mitmenschen, zu unserer Umgebung und zum gesamten Leben.
Breema ist erlebbar auf den Ebenen Materie, Energie, Bewusstsein und Bewusstheit als dynamischer Prozeß, um "in die Einheit", zu sich selbst zu kommen. 
Eine sehr aktive körperzentrierte spielerische Meditation im Austausch mit anderen Menschen.
Ich freue mich auf eine nährende Atmosphäre und viele Momente des Präsentseins mit euch!
Empfehlenswert für Breema-"Neulinge" und ideal für Paare :))
Mitzubringen: bequeme Kleidung und Socken, Sitzkissen, Decke
Preis: 45 Euro / Person, mit Vorüberweisung
Bitte nur mit verbindlicher Anmeldung unter:
info@bruecke-praxisgemeinschaft.at
Wo? Inselreich- Haus der Energie und Bewegung, Tristangasse 28, 9020 Klagenfurt
Ablauf: Ankommen mit Vorstellungsrunde, Körperzentrierte Meditation, Selbst-Breema-Körperübungen, Partner-Breema-Körperarbeit, Fragen - und Austauschrunden, Abschlußmeditation
Keine Vorkenntnisse erforderlich! Sitzen am Boden sollte bequem möglich sein
Ich praktiziere und studiere über 20 Jahre Breema und unterrichte als zertifizierte Instruktorin des Breema Centers (Oakland, USA)
Transfer credit hours
3.0
Instructor
Practising and instructing BREEMA gives me endless and playful variations of exploring  and understanding myself by connecting my mind with the body and the feelings to receive my essential nature. Every moment gets a new, fresh and vivid invitation & expression of being human in all our dimensions of existence. I'm grateful for this nonjudgmental and nonideologic path rooted in Breema's Nine Principles of Harmony, which are simple and holistic guidelines to always come back to myself, moving...