Image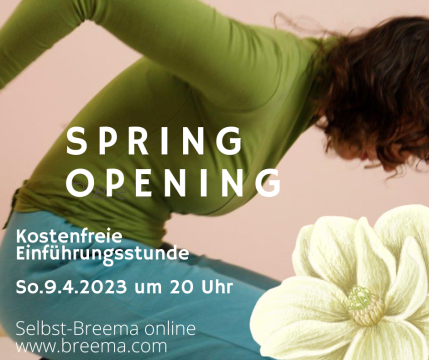 Kostenfreie Einführungsstunde
This online event begins at 11:00am PDT, 2:00pm EDT, 20:00 CEST, 21:00 IDT.
Kostenfreie Einführungsstunde zum Kennenlernen in Deutsch
Wieder einmal eine Gelegenheit, BREEMA®️ praktisch zu schnuppern: Selbst-Breema-Übungen, Herkunft, Philosophie, Ausbildung,..
BREEMA®️DIE KUNST PRÄSENT ZU SEIN ist eine praktische Lebensphilosophie, die sich  ausdrückt in Freude an Bewegung & Berührung
SAYING YES TO LIFE ALWAYS AND EVERYWHERE..♡
Jede/r ist willkommen, teilzunehmen!
Gerne noch Bekannte und FreundInnen dazu einladen und teilen..♡
Du brauchst : Matte, Kissen, bequeme Kleidung und einen ruhigen Raum
bitte pünktlich um 20 Uhr!
ZUGANGSLINK:
Topic: Einführungsstunde BREEMA FOR SPRING OPENING
Time: April, 9, 2023 08:00 PM Vienna
Join Zoom Meeting
https://us02web.zoom.us/j/85017381080?pwd=WGZiNjR5MHo3VGdjanRaNFdJWDJiQT09
Meeting ID: 850 1738 1080
Passcode: 283683
MARIA MAGDALENA SCHLEICHER
BREEMA®️INSTRUCTOR des Breema Centers www.breema.com