Image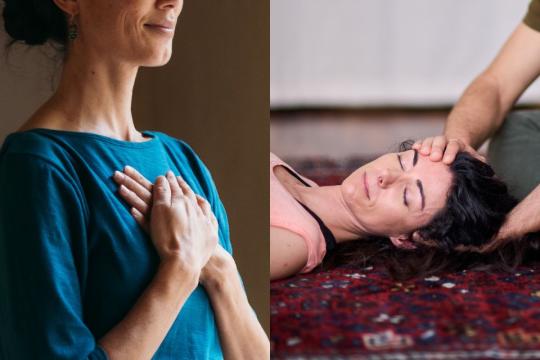 Receiving Life's Blessings
Blessings sometimes come unexpectedly, from unexpected corners. Breema, at its root, is about how to make nearly any situation more harmonious, so we can receive the blessings that life is continually offering us.
Breema is a non-dogmatic philosophy and a "methodless method" that offers us practical ways to experience that we can truly support others only by first finding balance within ourselves. Breema's benefits are tangible, and include increased physical, mental, and emotional health, and more harmonious relationships with the people we interact with.
In this introductory workshop, we will learn and practice Breema bodywork treatments and Self-Breema exercises (Breema bodywork treatments you give to yourself!), in order to establish a firsthand relationship to Breema's Nine Principles of Harmony. When class ends, you are likely to return home feeling both energized and relaxed.
This event is no charge. 
Please wear comfortable clothes, and be prepared to sit and move on a padded surface. Come on your own or bring friends!
Instructors
Breema Center staff
Breema Clinic practitioner
I am a Family Physician, and have been a Breema Practitioner and Instructor for over 20 years. I have found Breema's non-judgmental atmosphere to be invaluable in working with any health condition. I am consistently amazed at the effect of Breema bodywork, Self-Breema exercises, and Nine Principles of Harmony in increasing vitality, addressing acute concerns, and offering new templates for relating to body, mind, and feelings. I began working as a Practitioner at the Breema Clinic in 2002, and...
Director of the Breema Center and Breema Clinic
Jon Schreiber, D. C., director of the Breema Center and Breema Clinic in Oakland, California, has been teaching Breema in the U.S. and internationally since 1980. He has presented Breema at medical, psychology, bodywork, exercise, holistic health, and personal growth conferences. His numerous articles and books focus on the universal and practical philosophy of Breema. In his clinical practice, Dr. Schreiber uses Breema, Self-Breema, and the Nine Principles of Harmony to help patients discover...