Image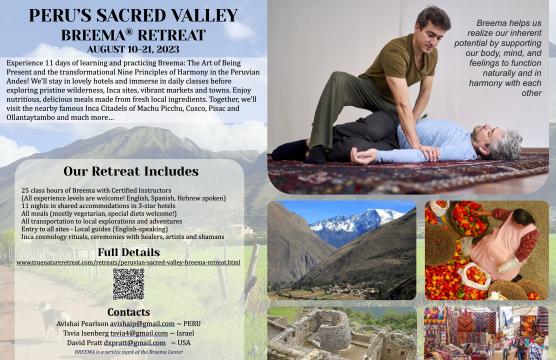 ---
The Magic of Breema and The Sacred Valley
We invite you to join us for an unforgettable retreat in the Peruvian Andes.
You'll experience a combination of classes in Breema: The Art of Being Present and the Nine Principles of Harmony and the heart-opening nurturance of rich and colorful local adventures. Each day, we will have both Breema class time and excursions to take in the beauty, culture, and Inca monuments in the surrounding areas. Our outings will include pristine wilderness, archaeological sites and vibrant markets and towns.
We'll stay in two lovely hotels with stunning views of our surroundings. You'll enjoy nutritious, delicious meals made from fresh local ingredients and breathe the pure mountain air. Together, we'll visit the nearby famous Inca Citadels of Machu Picchu, Cusco, Pisac and Ollantaytambo and interact with the diverse population of Peruvians who are the true treasure of this land.
This is a rare and unique opportunity to experience both the down-to-earth wisdom of Breema and the majestic, vital atmosphere of The Sacred Valley. Our retreat schedule has been carefully crafted so that those two elements seamlessly support each other, and truly, support us while we are together and after we've returned home.
Breema is based on a profound understanding of the underlying unity of all life, expressed through the Nine Principles of Harmony. 
Breema bodywork and Self-Breema exercises, practiced with these Principles, use natural rhythmic movements that are both nurturing and vitalizing. This art offers us a practical way of raising our level of consciousness by unifying body, mind and feelings. With its non-judgmental approach, both giver and receiver experience greater receptivity, balance and openness to life.
No prior experience is necessary, nor does one need great physical dexterity or flexibility, but participants should be comfortable sitting and working on the floor. Each bodywork sequence can be adapted to suit the condition of both the practitioner and the recipient.
For more information on cost, lodging, and schedule of activities, visit
https://www.truenatureretreat.com/retreats/peruvian-sacred-valley-breema-retreat.html
Transfer credit hours
25.0
Instructors