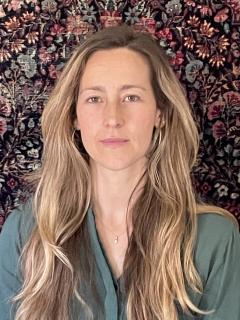 Certified Breema Practitioner
Certified Self-Breema Instructor
Certified Breema Instructor
Berkeley, CA 94705
United States
Ariadne is a Somatic Psychotherapist, with a private practice in the Rockridge area of Oakland. 
Her therapeutic style has been most informed by the practice and personal study of both Breema Bodywork® and Formative Psychology®. Breema supports using body-mind connection to begin to come out of unconscious and reactive movement through life, and instead live with more choice, availability, and an inner authority with which we can to respond to life. Formative Psychology has supported her understanding of how our personalities form given our experiences, histories, and the impressions we take over time. 
Ariadne is in private practice and is a practitioner at Greeting Health at the Breema Clinic where  she works in tandem with other somatic psychotherapists, an MD with both Eastern and Western orientation, and a massage therapist/energy worker. Breema is foundational to her psychotherapy practice.
Upcoming event map
The Breema Center

6076 Claremont Ave.
Oakland, CA 94618
United States

Ariadne Thompson

Berkeley, CA 94705
United States
Upcoming events