Image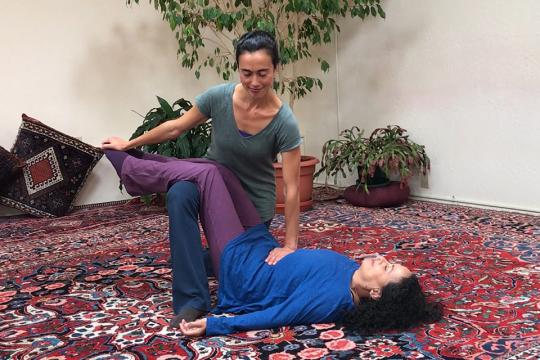 Moving in Harmony with Existence
---
Información en español abajo
Breema is based on a profound understanding of the principles that govern the entire universe and everything in it. In this workshop, we will learn simple Breema treatments and exercises that introduce us to an entirely new and different way of moving and relating, and provide access to new dimensions of physical, mental, and emotional health and balance. We will be sitting and practicing on a padded floor, and pairing up with each other to practice the bodywork we learn.
This weekend workshop is for anyone interested in experiencing real health, greater vitality, and a more meaningful life. Breema is safe, simple, and totally fun to learn and practice. Bring your friends! You can attend one, two, three or all four sessions of the workshop. Each will have its own unique material.
Dates and Prices
Introduction to Breema
Friday, December 6
6:00 - 9:00 pm
Location: Call for details.
No charge.
Workshop
December 7 - 8
Saturday: 10:00 am - 1:00 pm and 3:00 - 6:00 pm
Sunday: 10:00 am - 1:00 pm and 3:00 - 6:00 pm
Location: Call for details.
Single Workshop: $30; 2 or more workshops: $25/workshop; full weekend (all 4 workshops): $90
(Half price for practitioners to attend Sat/Sun workshops; accommodations are still the same, full price for everybody)
Accommodations: First 4 sign ups: $40/night (including breakfast); after the first 4 sign ups, it's $65/night (including breakfast)
For more information and to register please contact Alexis Mulhauser +1 (510) 424-1515 and 

[email protected]

 or Rasa Long +1 (832) 270-0068 
---
Información en español
Moviendonos en Armonia con la Existencia: Taller de Breema de Fin de Semana
Breema está basado en una profunda comprensión de los principios que gobiernan el universo y todo lo que se encuentra en él. En este taller aprenderemos ejercicios y tratamientos sencillos que nos introducirán a una nueva y completamente diferente forma de movernos y relacionarnos, y nos darán acceso a nuevas dimensiones de salud y equilibrio físico, emocional y mental.
La clase transcurrirá sobre una superficie acolchada donde nos sentaremos y practicaremos con diferentes participantes los trabajos corporales que aprendamos.
Este intensivo de fin de semana es para todo aquel interesado en experimentar una salud real, más vitalidad y una vida con más sentido. Breema es seguro, sencillo y muy divertido tanto de aprender como de practicar. ¡Lleva a tus amigos! Puedes asistir a una, dos, tres o todas las sesiones. Cada una de ellas tendrá su propio contenido único.
Cursos y Precios
Introducción al Breema con Jon Schreiber y Alexis Mulhauser
Viernes, 6 de Diciembre, de 18 a 21 horas.

(de 18 a 19 horas: sesiones de Breema, de 19 a 21 horas: clase)

Gratuito.
Sábado, 7 de Diciembre
10-13 horas & 15-18 horas
Domingo, 8 de Diciembre:
10-13 horas & 15-18 horas
Opciones de participación:
Una sesión: $30
Dos o más sesiones: $25 cada una
Todo el fin de semana: $90
Alojamiento: Los primeros 4 reservaciones: $40/noche (incluye desayuno), después de los primeros 4 reservaciones, cuesta $65/noche (incluye desayuno)
Para más información sobre este evento: llama a Alexis (510) 424-1515) o mándale un email: [email protected]
Para apuntarse al Evento Introductorio o al Taller de Fin de Semana: llama a Rasa Long al 1(832)270-0068 o mándale un email: [email protected]
Biografía
Jon Schreiber, D. C., director del Breema Center y la clínica de Breema en Oakland, California, lleva enseñando Breema en EE.UU. e internacionalmente desde 1980. Ha presentado Breema en numerosas conferencias de medicina, psicología, trabajo corporal, ejercicio físico, salud holística y crecimiento personal. Sus numerosos artículos y libros están enfocados en la filosofía práctica y universal de Breema. En su práctica clínica activa el Dr. Schreiber emplea Breema, AutoBreema y los Nueve Principios de Armonía para ayudar a sus pacientes descubrir el verdadero sentido de la salud.
Alexis Mulhauser tiene 20 años de experiencia de estudio y enseñanza del movimiento del cuerpo, incluyendo Breema, yoga, artes marciales y danza. Es Instructora de Breema en el Breema Center de Oakland, California, y también enseña en talleres de salud y bienestar, así como pre y peri natal yoga y danza.
Instructors
Director of the Breema Center and Breema Clinic
Jon Schreiber, D. C., director of the Breema Center and Breema Clinic in Oakland, California, has been teaching Breema in the U.S. and internationally since 1980. He has presented Breema at medical, psychology, bodywork, exercise, holistic health, and personal growth conferences. His numerous articles and books focus on the universal and practical philosophy of Breema. In his clinical practice, Dr. Schreiber uses Breema, Self-Breema, and the Nine Principles of Harmony to help patients discover...
Breema Center staff
Join me for personal Self-Breema classes live online, one-on-one, via Zoom. For your first free session, click "Send message" and let me know when you would like to schedule one. For additional sessions, the link to book an appointment with me at the Breema Clinic is above.
Alexis Mulhauser has 20 years experience studying and teaching movement, including Breema, Yoga, and Nia dance. She is a Breema and Self-Breema Instructor in Oakland, CA, and also teaches dance classes locally throughout...