Image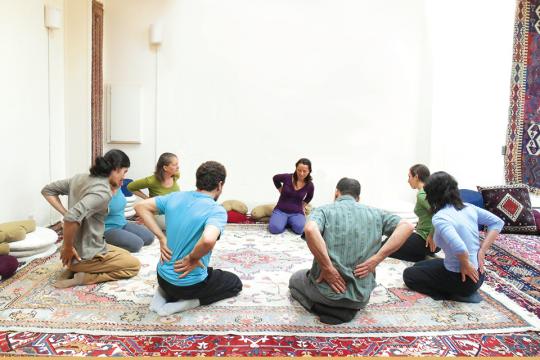 Thursday Morning Self-Breema Class
---
Every Self-Breema exercise offers us an opportunity to bring body and mind together and become present. Because the exercises are pure expressions of the Nine Principles of Harmony, they can be powerful catalysts for greater physical, mental, and emotional health. 
This class will feature Self-Breema exercises that are also particularly beneficial for improving and maintaining low back health. 
The exercises are done fully clothed (but without shoes), sitting or standing on a padded floor. 
They are led by an Instructor and practiced in a group format. There is no individual instruction. Although the exercises are totally safe and not strenuous, each student is responsible for their own comfort.
More Information
$15 drop-in (or use 10-class card)
For more information please contact: The Breema Center (510) 428-0937 or [email protected]
Instructors
Director of the Breema Center and Breema Clinic
Jon Schreiber, D. C., director of the Breema Center and Breema Clinic in Oakland, California, has been teaching Breema in the U.S. and internationally since 1980. He has presented Breema at medical, psychology, bodywork, exercise, holistic health, and personal growth conferences. His numerous articles and books focus on the universal and practical philosophy of Breema. In his clinical practice, Dr. Schreiber uses Breema, Self-Breema, and the Nine Principles of Harmony to help patients discover...
Breema Center staff
Breema Clinic practitioner
I am a Family Physician, and have been a Breema Practitioner and Instructor for over 20 years. I have found Breema's non-judgmental atmosphere to be invaluable in working with any health condition. I am consistently amazed at the effect of Breema bodywork, Self-Breema exercises, and Nine Principles of Harmony in increasing vitality, addressing acute concerns, and offering new templates for relating to body, mind, and feelings. I began working as a Practitioner at the Breema Clinic in 2002, and...
Breema Center staff
Alexis Mulhauser has 20 years experience studying and teaching movement, including Breema, Yoga, and Nia dance. She is a Breema and Self-Breema Instructor in Oakland, CA, and also teaches dance classes locally throughout the Bay Area.