Image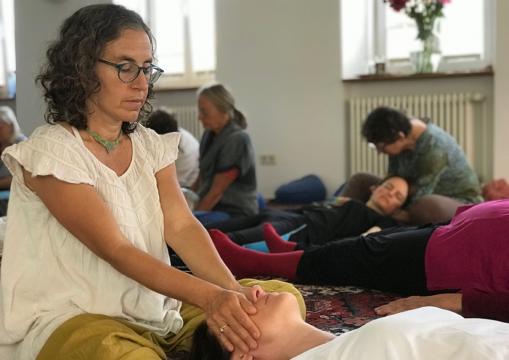 ---
English follows Hebrew,

אמנות תרגול ברימה ,על עצמנו ובזוגות, הוא ביטוי של תשעת העקרונות לחיים הרמוניים. ברימה היא טבעית, מלאת חיוניות, ותומכת בבריאות הפיזית, המנטלית והרגשית. המטרה היא לחוות את הטעם של אחדות הגוף, המחשבות והלב,ולהעלות את רמת התודעה.
באווירה לא שיפוטית ותומכת, הברימה מזמינה אותנו לצאת מהמחשבות ולחוות נוכחות.

A Breema Intensive is an optimal opportunity to enter into and practice "the art of being present" and to gain first-hand experience of Breema's Nine Principles of Harmony. In each class, you'll learn and practice Self-Breema exercises and Breema bodywork sequences that help to create a new unified relationship between the body, mind and feelings. You don't need any prior bodywork experience. Both new and experienced students from around the world come to study at Breema intensives and to benefit from Breema's practical approach to living harmoniously. Breema intensives offer support for moving from complication to simplicity, no matter what conditions life presents.
The Intensive consists of 6 sessions, with a total of 17 hours. The schedule is as follows:

 

The cost for the whole Intensive is 1000

 NIS/

260€

 (850 if paid before January 27, 2020) and 500 NIS/130

€

 for 

Certified Practitioners and Instructors

. It is also possible to participate in single classes at a rate of 70 

NIS

/per class hour.

Accommodation is available as follows - all prices being per night/per person including breakfast.  All rooms have heating/cooling, shower, and a toilet. 

Single room: 280 Shekels

Double room: 232 Shekels

Room for 3: 216 Shekels

Room for 4: 195 Shekels

 

Meals can be booked at 60 Shekels per meal (vegetarian/vegan optional): Thursday dinner, Friday dinner and Saturday lunch. We must know by Feb. 6 if you wish to order any meals. In addition there are restaurants in the lovely town of Ein Kerem 

just a few minutes away by foot.

For additional information and to register contact:
Transfer credit hours
17.0