Image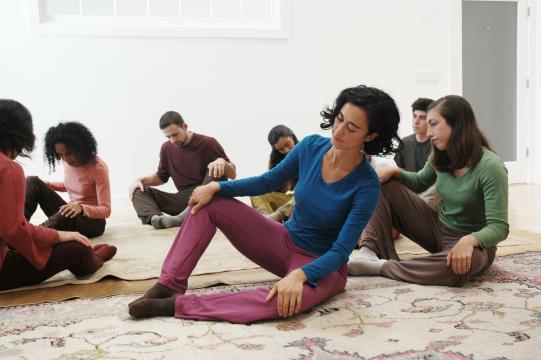 Esta es una serie de clases en línea cada miércoles. Grátis.
10:30am - 11:05am EUA (PDT) --  12:30pm - 13:05pm México (EST) -- 19:30pm - 20:05pm España (WET)
Independientemente de las circunstancias externas de la vida, podemos experimentar una presencia y una armonía en nuestro interior.
 Las clases de AutoBreema son una oportunidad única para poner en práctica y experimentar los Nueve Principios de Armonía de Breema. Aprender y practicarlos juntos nutre tanto como da energía. Los ejercicios apoyan la flexibilidad física, la claridad mental y el equilibrio emocional y nos ayudan a tener los pies en la tierra, nutrirnos y vitalizarnos, de modo que participemos plenamente en todas los aspectos de nuestro día a día.
Cada semana harremos hincapié en uno de los Principios y aprenderemos varios ejercicios de AutoBreema.
Los Nueve Principios de Breema
Cuerpo Cómodo
Sin Extra
Firmeza y Suavidad
Participación Plena
Apoyo Mutuo
Sin Juzgar
Momento único/Actividad única
Sin Prisa/Sin Pausa
Sin Forzar
Instructors
Breema Center staff
Breema Clinic practitioner
Arlie began receiving Breema bodywork sessions in 1994 and soon after became a Certified Breema Practitioner and Instructor.
Since then, she has dedicated her efforts to teach and reach more people with the essential, transformative method that Breema offers, via classes, workshops and private sessions.
Over the years, she has studied and travelled with a keen interest in expanding her experience and understanding of many traditional healing methods with native peoples, shamans, medicine...

The  very first time i received a Breema bodywork session, my body entered into a state of true relaxation, by the time the session was over , my body felt joyful, full of vitality, that that moment i felt I wanted to learn Breema.  It was just that moment in which my body, mind and feelings were in harmony and tuned.   
I practice  and share Breema, wishing  everyone can experience that vitality and that harmony in their bodies.
La primera vez que recibí una sesión de Breema, mi cuerpo...

Miguel Á Alonso es Licenciado en Derecho y lleva desde 2003 practicando los Nueve Principios en su día a día. Instructor certificado, ha recibido formación e impartido clase en el Breema Center, Israel y en los intensivos de Barcelona. Actualmente da clase mensualmente en Madrid de Breema y Auto-Breema. 
Schedule