Image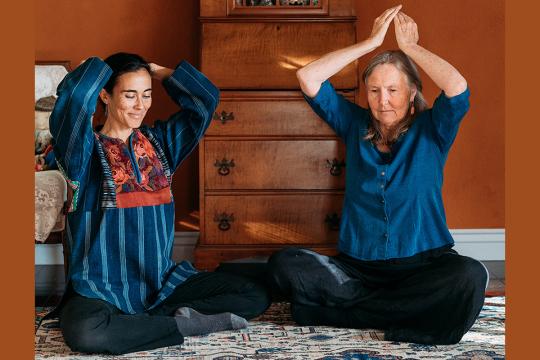 This online event begins at 12:00pm PDT, 3:00pm EDT, 21:00 CEST, 22:00 IDT.
A Self-Breema class for parents and professionals supporting families during pregnancy, birth, and early childhood.
No charge. Four Wednesdays: March 24 through April 14, 2021 from 12:00 noon to 1:00 PM PT. Each class can be taken separately.
Note: Due to daylight saving time taking effect, the time for this class in other time zones will change for subsequent classes in this series. 
When we connect deeply with ourselves, we connect more authentically with others and our relationships become mutually supportive.

Self-Breema exercises offer us a tangible experience of "coming home" to the body. The movements nurture a simple, grounded centeredness and revitalize the body, the mind, and the feelings. 
Practiced with the Nine Principles of Harmony, Self-Breema offers tools to experience a renewed capacity to be present in all aspects of our daily life, personal and professional. The openness, aliveness, and receptivity cultivated by Self-Breema supports us to more fully participate in life.
CE available: 1.0 hour
The Breema Center is approved to offer continuing education for massage practitioners and bodyworkers by the NCBTMB (#145251-00). If you're interested in CE for this class, please email 
[email protected]
 for important details.
Transfer credit hours
0.0
Instructors

Breema Center staff
Breema Clinic practitioner
Birthe Kaarsholm RSMT, CMT is a staff instructor at the Breema Center in Oakland, California where she has taught and practiced Breema since year 2000. She is a Registered Somatic movement therapist and a certified Body-Mind Centering® practitioner and Laban/Bartenieff Movement Analyst®. With a life-long interest in working with the body, including physical theater, Body-Mind Centering and movement therapy, Breema's approach to seeing the body as a vehicle to raise our level of...
Blogs by Eileen Sendrey
I Want to Be More Present in My Life ~ September 20, 2019
Schedule