Image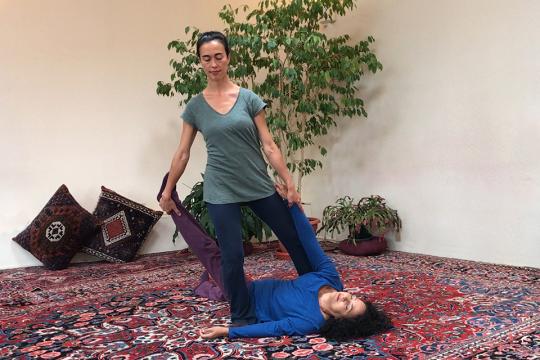 This is an in-person class series at the Breema Center.
Breema speaks the language of your Being. You hear it from inside yourself, as though you are expressing a hidden understanding that has always been a part of you. That expression harmonizes your mind, feelings, and body.
Practicing Breema and working with the Nine Principles gives you the possibility to create a new relationship to life. Every moment you have of being present becomes the foundation of that relationship.
Being-participation is totally new in each moment, no two tastes are ever identical, yet every taste is tangible. By coming to the body again and again, we see and understand that experience is not in our mind, not in our feelings, nor in our sensations. It is a knowledge that is rooted in Consciousness.
Dates and Prices
8 Monday evenings (July 12- August 30)

7:00 - 8:30pm

$20/ class (Certified Practitioners half price)
$140 for the full series (Certified Practitioners half price)
Open to all levels
PRE-REGISTRATION REQUIRED
For more information or to register in person, call 510-428-0937 or email center@breema.com
Please wear comfortable long pants and socks. No fragrances, please. We follow current California State and Alameda County COVID guidelines.
Instructors
Breema Center staff
Breema Clinic practitioner
I am a Family Physician, and have been a Breema Practitioner and Instructor for over 20 years. I have found Breema's non-judgmental atmosphere to be invaluable in working with any health condition. I am consistently amazed at the effect of Breema bodywork, Self-Breema exercises, and Nine Principles of Harmony in increasing vitality, addressing acute concerns, and offering new templates for relating to body, mind, and feelings. I began working as a Practitioner at the Breema Clinic in 2002, and...
Ariadne is a Somatic Psychotherapist, with a private practice in the Rockridge area of Oakland. 
Her therapeutic style has been most informed by the practice and personal study of both Breema Bodywork® and Formative Psychology®. Breema supports using body-mind connection to begin to come out of unconscious and reactive movement through life, and instead live with more choice, availability, and an inner authority with which we can to respond to life. Formative Psychology has supported her...
Schedule