Image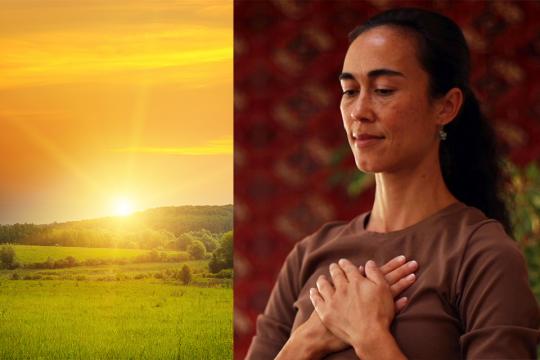 This online event begins at 10:30am PST, 1:30pm EST, 19:30 CET, 20:30 IST.
This online class series meets Wednesday morning from 10:30–11:05am, Pacific Time. No charge. /Esta serie de clases en línea se reúne los miércoles por la mañana de 10:30–11:05am, hora del Pacífico. Sin cargo.
Encontrar el equilibrio interior en la vida con AutoBreema y los nueve principios de la armonía
La práctica de AutoBreema nos invita a experimentar cuerpo, mente y sentimientos juntos en lugar de separados. Sus ejercicios crean apertura en el cuerpo, claridad y tranquilidad en la mente y sentimientos de apoyo y equilibrio, de ese modo podemos estar presentes momento tras momento. El AutoBreema es además un vehículo para alinearnos con los Nueve Principios de Armonía: Sin fuerza, Apoyo mutuo y Momento único /Actividad única, Participación Total, Sin Extra y, entre otros, Firmeza y Suavidad. Expresar esos principios durante la práctica de AutoBreema nos guía hacia formas más naturales y beneficiosas de movernos, pensar, sentir y ser. Mientras más nos familiarizamos en movernos con participación plena, sin forzar y con firmeza y suavidad, más es nuestra capacidad de que esos principios estén presentes en el día a día. 
Finding Inner Balance in Life with Self-Breema and the Nine Principles of Harmony
The practice of Self-Breema invites us to experience body, mind and feelings together instead of separately. The exercises create openness in the body, clarity and tranquility in the mind, and feelings of support and balance, so that we can be present moment after moment. Self-Breema is also a vehicle to align ourselves with the Nine Principles of Harmony: No Force, Mutual Support and Single Moment / Single Activity, Full Participation, No Extra and, among others, Firmness and Gentleness. Expressing these principles during the practice of Self-Breema guides us towards more natural and beneficial ways of moving, thinking, feeling and being. The more we become familiar with moving with full participation, without forcing and with firmness and gentleness, the more capacity we have for these principles to be present in our day to day life.
Need help with Zoom? Click breema.com/zoomhelp
Instructors
Schedule