Image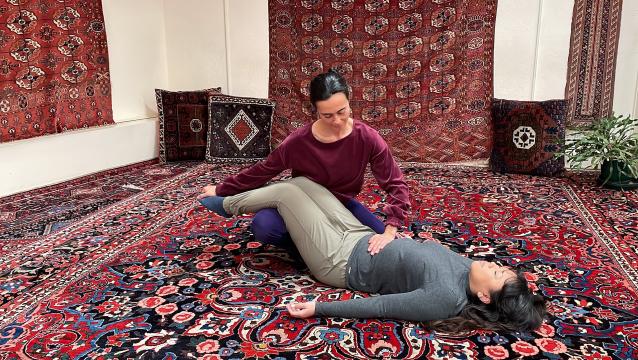 This is an In-person class in Santa Cruz, California.
In this 4-week series, we will learn and practice Breema bodywork sequences and Self-Breema exercises, all living expressions of the Nine  Principles of Harmony. Studying Breema is experiential—we learn with the body, and the emphasis is on our own experience. Succinctly put, to study Breema is to study oneself. Breema offers perspectives and experiences that can become the foundation of a profound self-understanding with the potential to have a transformative effect on one's life. This class is ideal for anyone wishing to increase harmony in their lives, especially caregivers, teachers, or health professionals who may feel burnt-out or fatigued. As we study the comprehensive philosophy of Breema, we learn to apply the principles and philosophy in our own lives, and see that to support others, we must first start with ourselves.
Dates and Prices
Wednesday evenings: April 6th, 13th, 20th and 27th
7:00 - 8:30pm
$25/ class ($80 series)
Open to all levels
For more information or to register in person, call 510-455-8008 x2 or email alexandra@greetinghealth.com.
Please wear comfortable long pants and socks. No fragrances, please. We follow current California State and Santa Cruz County COVID guidelines.
Instructors
Breema Center staff
Breema Clinic practitioner
I am a Family Physician, and have been a Breema Practitioner and Instructor for over 20 years. I have found Breema's non-judgmental atmosphere to be invaluable in working with any health condition. I am consistently amazed at the effect of Breema bodywork, Self-Breema exercises, and Nine Principles of Harmony in increasing vitality, addressing acute concerns, and offering new templates for relating to body, mind, and feelings. I began working as a Practitioner at the Breema Clinic in 2002, and...

Kevin has been studying Breema since 2003.  After studying several mind-body modalities over the years, he was happy to discover Breema.  He was drawn to the practice as he found it very useful outside of the classroom in everyday life.  It is also a very simple practice focusing on registering the breath and the weight of the body.
Kevin lives in Santa Cruz with his wife and 5 children.  He enjoys yoga, hiking, body boarding and travel.
Schedule