Image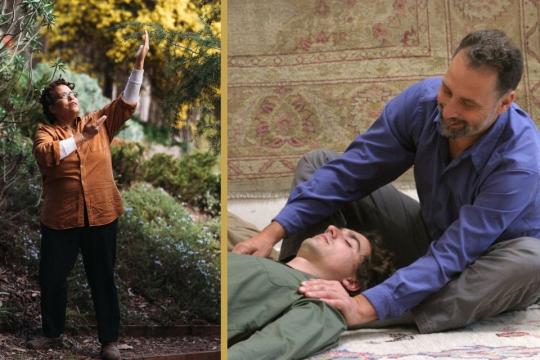 Einfachheit und Gegenwärtigkeit in der Begegnung mit dem Körper erfahren
Diese Sommertreffen haben immer eine besonders nährende und wohltuende Atmosphäre.
Die präsentierten Breema Übungen und Selbstbreema Übungen sind einfach  und werden mehrfach wiederholt.
Die Aufmerksamkeit unseres Verstandes wird auf den Körper gelenkt - ohne Ergebnisorientierung.
Das einfache Erleben unseres körperlichen Hierseins steht im Vordergrund.
Neben den Breema Einheiten gibt es die Möglichkeit, sich an gemeinsamen Mahlzeiten, mit Wildkräutern, Kartoffeln, Olivenöl und Obst, zu beteiligen.
Ausserdem gibt es die Möglichkeit in den nahegelegenen Baggerseen zu schwimmen, zu wandern, Wasserfälle zu besuchen und die wunderbare und herrliche Umgebung des Nordschwarzwaldes zu erkunden.
Im Seminarhaus selbst gibt es 7-8 Übernachtunsmöglichkeiten. (€ 30/Nacht)
Weiter Übernachtungsmöglichkeiten gibt es in Ferienwohnungen in der näheren Umgebung.
Die Seminargebühr beträgt € 400,00 und ist bis zum 1. Juli 2022 auf das folgende Konto zu überweisen:
Herbert Schneider, Deutsche Bank, IBAN  DE69 6627 0024 0061 7431 01
Wir freuen uns auf Eure Beteiligung und das gemeinsame Wirken und Erleben in diesem Seminar.
Transfer credit hours
24.0
Instructor

Pari Schneider is the organizer of the Breema Center's international Intensives in Germany, and  directs several Practitioner certification groups in Germany.
He founded  the Breema-Seminarhouse in Bühl-Baden and has been intensively instructing and presenting Breema in workshops and at conferences worldwide since 1990. 
For the past 25 years, he has led  workshops with Prof. Dr. med. Luise Reddemann on Breema and self-care.