Image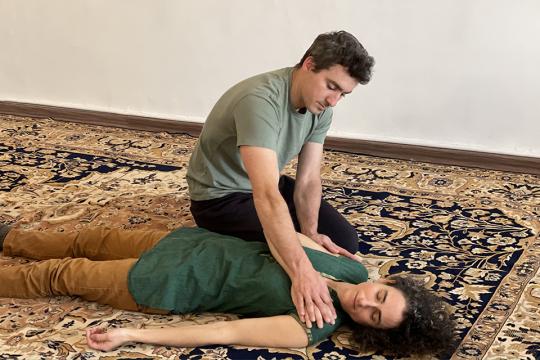 Benefit from a nurturing afternoon of balance and harmony with Breema bodywork, Self-Breema exercises, and the Nine Principles of Harmony. 
• Breema Bodywork Workshop 1-4 pm
   $40 if paid by September 16, $50 thereafter. First-timers attend at half-price.
Learning and practicing Breema bodywork, Self-Breema exercises, and the Nine Principles of Harmony, we learn to move, think, and feel in a new yet totally natural way. Breema helps your mind to be clearer, your feelings to be calmer and more supportive, and your body to be more relaxed, flexible, and vital.
Breema is about coming to a tangible and direct experience of your essential self. It's a practical, down-to-earth approach to being present that can bring more meaning and understanding to your life.
For more information please contact the Breema Center: 510-428-0937 or center@breema.com
Please wear comfortable long pants and socks. No fragrances, please. We will follow all current COVID guidelines.
3 CE hours available for massage therapists and bodyworkers, nurses, LMFTs, LCSWs, LPCCs, and LEPs. $10 fee for processing

.
Instructors

Breema Center staff
Breema Clinic practitioner
Susan Mankowski, LMT, BFA, has been an Certified Breema Practitioner and Instructor in Santa Cruz, the Breema Center, and throughout the United States for over two decades. She has been a Staff member and Instructor at the Breema Center since 2012. Currently she is located offsite in Wisconsin.
Always and everywhere, we have the possibility to come to unity with all that exists.

From Your Home Is the Entire Cosmos by Jon Schreiber

As soon as I could stand, I wanted to connect to life...

I am grateful to have been a student of Breema bodywork for over 30 years.  During this time I have also been an instructor at the Breema Center and a practitioner at the Breema Clinic.
As a student, I was struck early on by becoming present effortlessly during and after Breema classes. The experience of the present moment is like coming home; something that was missing before my discovery of Breema.  This experience of being present brings clarity of mind, quiet joyful feelings, and a...
Schedule