Image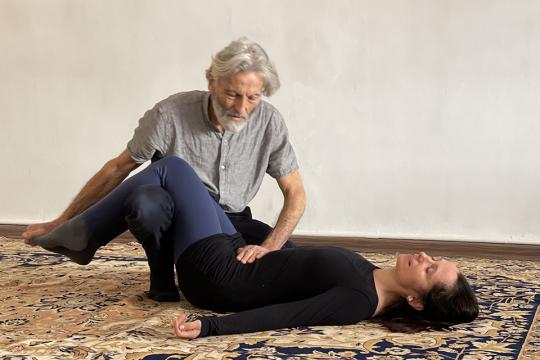 The Art of Being Present
Learn and practice Breema bodywork and Self-Breema exercises to establish a tangible and practical relationship to the Nine Universal Principles of Harmony and unify body, mind, and feelings.  Discover a new and natural relationship to yourself, others, and all life.

Join Jon Schreiber and Certified Breema Instructors for an experiential weekend to study and practice Breema's transformative philosophy of unity.
Breema is practiced on a padded floor. Please be comfortable working on the floor.

No prior experience is needed.
Registration & info:
Pari Schneider  –  paribreema@t-online.de  Tel. +49 (0) 7223-807290
Cost: Full workshop  € 320,00; half price for practitioners and Instructors. Partial attendance is possible: € 55 per workshop. ´´´

The money should be wired by the 20th of September to the following account.
Pari Herbert Schneider, Deutsche Bank-Bühl, IBAN DE69 6627 0024 0061 7431 01

Venue: Breema Seminarhaus, Bühl-Waldmatt
Workshop Schedule:
Thursday, October 20, 17:00-20:00

Friday & Saturday, October 21 & 22, 10:00-13:00 & 15:00-18:00

Sunday, October 23, 10:00-13:00
We follow current COVID regulations.
Instructors
Director of the Breema Center and Breema Clinic
Jon Schreiber, D. C., director of the Breema Center and Breema Clinic in Oakland, California, has been teaching Breema in the U.S. and internationally since 1980. He has presented Breema at medical, psychology, bodywork, exercise, holistic health, and personal growth conferences. His numerous articles and books focus on the universal and practical philosophy of Breema. In his clinical practice, Dr. Schreiber uses Breema, Self-Breema, and the Nine Principles of Harmony to help patients discover...

Pari Schneider is the organizer of the Breema Center's international Intensives in Germany, and  directs several Practitioner certification groups in Germany.
He founded  the Breema-Seminarhouse in Bühl-Baden and has been intensively instructing and presenting Breema in workshops and at conferences worldwide since 1990. 
For the past 25 years, he has led  workshops with Prof. Dr. med. Luise Reddemann on Breema and self-care.
Breema Center staff
Breema Clinic practitioner
I am a Family Physician, and have been a Breema Practitioner and Instructor for over 20 years. I have found Breema's non-judgmental atmosphere to be invaluable in working with any health condition. I am consistently amazed at the effect of Breema bodywork, Self-Breema exercises, and Nine Principles of Harmony in increasing vitality, addressing acute concerns, and offering new templates for relating to body, mind, and feelings. I began working as a Practitioner at the Breema Clinic in 2002, and...