Image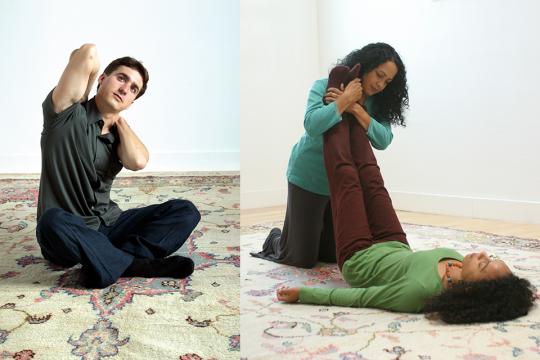 Self-Care for Caregivers and for Daily Life: Breema and the Nine Principles of Harmony
Breema and the Nine Principles of Harmony (Hebrew text below)
Registration: +972 54-682-0004 or tsvia4@gmail.com
The first day of this workshop will focus on caregivers.
Every moment, there is something we can do to increase our energy and vitality. By reestablishing the natural connection between body and mind, we can minimize and alleviate burnout and professional fatigue. We'll introduce you to simple exercises for self-care that that can be integrated into your life, into your workday, and into patient care. We'll learn and practice Self-Breema exercises and partner bodywork that establish an experiential relationship to Breema's Nine Principles of Harmony. These principles form a solid foundation that can help us experience real health, as well as harmony, in our professional and personal relations with others. 
Schedule
Thursday (3.11) 11.00 – 13.00    14.30 – 17.30    * 19.00 – 20.00
Friday (4.11) 10.00 – 13.00    15.00 – 18.00
Saturday (5.11) 10.00 – 13.00    14.30 – 17.30
* Short Breema sessions from certified  Breema practioners and Instructors to all participants. 
Prices
Early registration until Saturday, October 22
Price per workshop
1 class  (3 hours)   180 NIS           
day (6 hours)        360 NIS
2 days (12 hours)  680 NIS
 3 days (18 hours) 920 NIS
Registration after October 22
1 class (3 hours)        200 NIS
1  day (6 hours)        420 NIS
2 days (12 hours)     780 NIS
 3 days (18 hours)    1020 NIS 
Breema practitioners and Instructors 50 %

, היום הראשון בסדנה ה-3 בנובמבר,  מכוון למטפלים* 
  
לכל מגוון המטפלים - בגוף  בנפש  בתודעה
ברפואה הקונבנציונלית וברפואה האלטרנטיבית
במגע  בשיחה, עם צמחים  בתרופות  במים  ובטבע
לכל מי שבחר לתמוך ביצירת מרחב של ריפוי.

אהלן מטפלים.ות
.תסכימו איתי שמה שמאפיין אותנו, זאת, נתינה גדולה.
 .לא תמיד אנחנו זוכרים את עצמנו , ואת הדאגה לרווחתנו
 הברימה ו9 העקרונות , תומכת בנו בכל מקום וזמן  
בכל רגע יש משהו שאנחנו יכולים לעשות כדי להעלות את רמת
האנרגיה והחיוניות שלנו, על ידי החיבור הטבעי בין הגוף
לתודעה, לצמצם ואף למנוע עיפות ושחיקה.

בסדנה נלמד ונתרגל, תרגילים לטיפול עצמי ותרגילים עם
פרטנר, משולבים ב9 העקרונות לחיים הרמוניים
עקרונות אשר תומכים ביחסים שלנו עם עצמנו ועם הסביבה
האישית והמקצועית

אתם מוזמנים לקחת מתוך הסדנה כלים מעשיים, את העקרונות,  לשיפור חווית
הטיפול,  הנוכחות, ההעמקה, ההזנה, ההתחדשות,  הדאגה לרוחתכם, 
.ואפילו נינוחות
 
זמני השיעורים
חמישי (3.11)
11.00 – 13.00   14.30 - 17.30   *19.00 - 20.00
שישי (4.11)
10.00 – 13.00    15.00 – 18.00
שבת (5.11)
10.00 – 13.00     14.30 – 17.30
* קבלת טיפולי ברימה קצרים, מהמטפלים והמורים המוסמכים, לכל משתתפי הסדנה ולמארחים, 
מחירים
הרשמה מוקדמת עד שבת ה22 באוקטובר 
לשיעור 1 (3 שעות) 180 ש"ח
ליום אחד   (6 שעות)  360 ש"ח 
ליומיים (12 שעות) 680 ש"ח
לשלושה ימים (18 שעות) 920 ש"ח
הרשמה לאחר ה22 בנובמבר
לשיעור אחד (3 שעות) 200 ש"ח
 ליום סדנא ( 6 שעות) 420 ש"ח"
 ליומיים (12 שעות)780 ש"ח
 ל3 ימים (18 שעות) 1020 ש"ח
הנחיות להשתתפות בסדנא –
,התרגול על מצע רך של מזרונים ושטיחים על הרצפה. בואו בלבוש נוח לתנועה,
.מומלץ לבוש שכבות
הגעה- בואו 20 דקות לפני תחילת השיעור, על מנת להשאיר לעצמכם זמן
להתארגן
הסדנה לכולם, אין צורך בנסיון
 
בואו בברכה
צביה איזנברג 
Transfer credit hours
18.0
Instructors