Image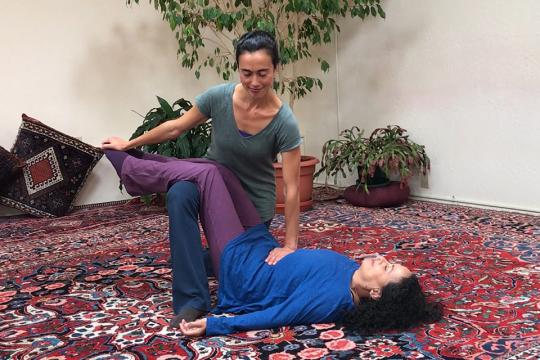 This is an in-person class series at the Breema Center.
The purpose of practicing Breema bodywork and Self-Breema exercises is to come to the present, to the taste of being present.
Working with the Nine Principles and practicing Breema gives us the possibility to create a new relationship to life. Every moment we have of being present becomes a part of the foundation of that relationship. Those moments create an atmosphere that is free from past and future, free from our conditioning. When we connect to that atmosphere, we find ourselves having new thoughts, new feelings, and a new posture toward life.
Dates and Prices
7:00 - 8:30pm every Monday

$20/ class (Certified Practitioners half price)
Open to all levels
For more information or to register in person, call 510-428-0937 or email center@breema.com
Please wear comfortable long pants and socks. No fragrances, please. 
Instructors

Breema Center staff
Breema Clinic practitioner
Susan Mankowski, LMT, BFA, has been an Certified Breema Practitioner and Instructor in Santa Cruz, the Breema Center, and throughout the United States for over two decades. She has been a Staff member and Instructor at the Breema Center since 2012. Currently she is located offsite in Wisconsin.
Always and everywhere, we have the possibility to come to unity with all that exists.

From Your Home Is the Entire Cosmos by Jon Schreiber

As soon as I could stand, I wanted to connect to life...
Schedule