Image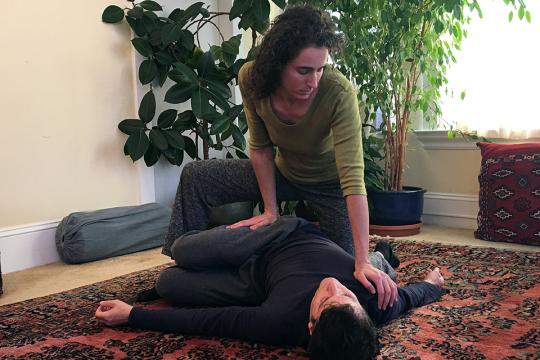 Breema bodywork and Self-Breema exercises are perfect expressions of the Nine Principles of Harmony. Over time, they introduce us to entirely new and harmonious ways to experience and respond to life. We will learn partner Breema bodywork and self-care exercises that can be practiced anywhere, any time, to decrease stress and tension, increase vitality, balance body, mind, and feelings, and support our inherent desire for a more meaningful life.
$40 if paid by January 20;  $50 thereafter. Use coupon code EARLYBIRD.
For more information please contact the Breema Center: 510-428-0937 or center@breema.com
Please wear comfortable long pants and socks. No fragrances, please. We will follow all current COVID guidelines.
3 CE hours available for massage therapists and bodyworkers, nurses, LMFTs, LCSWs, LPCCs, and LEPs. $10 fee for processing

.
Instructors
Breema Center staff
Breema Clinic practitioner
Denise Berezonsky is co-author of Self-Breema: Exercises for Harmonious Life, Associate Director and Practitioner at the Breema Clinic and a Staff Instructor at the Breema Center. Denise has been working with Breema's transformational approach to life since 1989 and in continuous practice at the Breema Clinic since 1991. She teaches online, throughout Northern California and in the Pacific Northwest.
"I love giving and receiving Breema bodywork. Breema, Self-Breema, and the Nine Principles...

Kevin has been studying Breema since 2003.  After studying several mind-body modalities over the years, he was happy to discover Breema.  He was drawn to the practice as he found it very useful outside of the classroom in everyday life.  It is also a very simple practice focusing on registering the breath and the weight of the body.
Kevin lives in Santa Cruz with his wife and 5 children.  He enjoys yoga, hiking, body boarding and travel.
Schedule