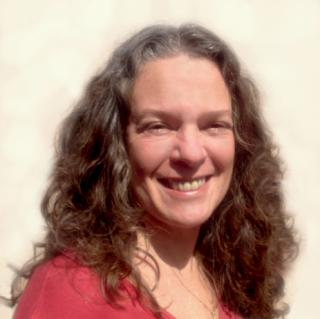 Breema Center staff
Breema Clinic practitioner
Certified Breema Practitioner
Certified Self-Breema Instructor
Certified Breema Instructor
The Breema Clinic
6201 Florio Street
Oakland, CA 94618
United States
Denise Berezonsky is co-author of Self-Breema: Exercises for Harmonious Life, Associate Director and Practitioner at the Breema Clinic and a Staff Instructor at the Breema Center. Denise has been working with Breema's transformational approach to life since 1989 and in continuous practice at the Breema Clinic since 1991. She teaches online, throughout Northern California and in the Pacific Northwest.
"I love giving and receiving Breema bodywork. Breema, Self-Breema, and the Nine Principles have had a transformative effect on me, and I wish to help people discover how much this practice can support them in all aspects of their life, including physical health and well-being and in their relationship to themselves and to others. As a practitioner I enjoy working with clients interested in setting simple goals to move towards greater health, balance, and vitality, and teaching them to use the tools I have personally worked with and found effective. As an instructor I find that I am constantly nurtured and supported by teaching Breema."
Join me for personal Self-Breema classes live online, one-on-one, via Zoom. For your first free class, click "Send message" and let me know when you would like to schedule one.
For additional classes, or Breema bodywork sessions, the link to book an appointment with me at the Breema Clinic is above.
Blogs by Denise Berezonsky
Upcoming event map
Hummingbird Valley

1690 Glen Canyon Road
Santa Cruz, CA 95060
United States

The Breema Center

6076 Claremont Ave.
Oakland, CA 94618
United States

The Breema Center

6076 Claremont Ave.
Oakland, CA 94618
United States

The Breema Center

6076 Claremont Ave.
Oakland, CA 94618
United States

The Breema Center

6076 Claremont Ave.
Oakland, CA 94618
United States

The Breema Center

6076 Claremont Ave.
Oakland, CA 94618
United States

The Breema Center

6076 Claremont Ave.
Oakland, CA 94618
United States

Hummingbird Valley

1690 Glen Canyon Road
Santa Cruz, CA 95060
United States

The Breema Center

6076 Claremont Ave.
Oakland, CA 94618
United States

Hummingbird Valley

1690 Glen Canyon Road
Santa Cruz, CA 95060
United States

The Breema Center

6076 Claremont Ave.
Oakland, CA 94618
United States

The Breema Center

6076 Claremont Ave.
Oakland, CA 94618
United States

The Breema Center

6076 Claremont Ave.
Oakland, CA 94618
United States

The Breema Center

6076 Claremont Ave.
Oakland, CA 94618
United States

The Breema Center

6076 Claremont Ave.
Oakland, CA 94618
United States

The Breema Center

6076 Claremont Ave.
Oakland, CA 94618
United States

The Breema Center

6076 Claremont Ave.
Oakland, CA 94618
United States

The Breema Center

6076 Claremont Ave.
Oakland, CA 94618
United States

The Breema Center

6076 Claremont Ave.
Oakland, CA 94618
United States

Denise Berezonsky

The Breema Clinic
6201 Florio Street
Oakland, CA 94618
United States
Upcoming events