Image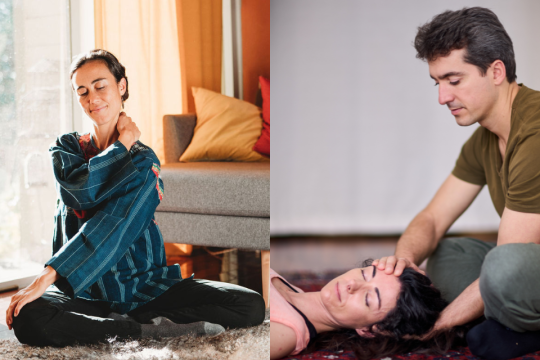 Santa Cruz: Saturday, May 6, 2023
Traumatic experiences can affect the body, mind, or emotions, and sometimes two, or even all three of them. What allows accidents, injuries, and painful events to continue affecting us over time?

Current psychological science postulates that traumatic stress is not determined so much by particular events (accidents, injury, or assault), as by how we perceive the events. This means that most of what determines whether an event is traumatizing or not is how we receive the event, and not so much the event itself. How can we transform our relationship to these events, to reduce their traumatic impact?

In this workshop, we will examine fundamental concepts and misconceptions that feed trauma and increase its detrimental influence, while introducing new perspectives that support a revolutionary approach to healing and a return to health, harmony, and vitality. This workshop is participatory and experiential. We will practice a variety of somatic movement and partner bodywork exercises that nurture connection between body and mind, and open possibilities to process events in a new way, strengthening our capacity to assimilate, heal, and live fully and vibrantly.

This workshop is appropriate for practitioners in the fields of mental, physical, and emotional health, and for anyone who is interested in understanding how to work with trauma. Please be comfortable sitting on and working on the floor. 
Each workshop will feature different perspectives, bodywork, and exercises. You're invited to attend both!
CE is available for massage therapists and bodyworkers, nurses, LMFTs, LCSWs, LPCCs, and LEPs. $10 fee for processing

.
$50 ($40 if paid by 4/29—Use Coupon Code EARLYBIRD)
Instructors
Schedule