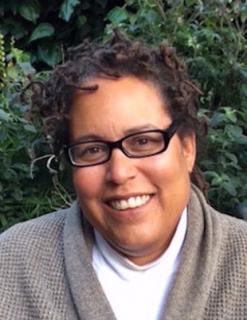 Breema Center staff
Certified Breema Practitioner
Certified Self-Breema Instructor
Certified Breema Instructor
The Breema Clinic/Greeting Health Integrative Clinic
6201 Florio St.
Oakland, CA 94618
United States
Angela has been a professional counselor since 1991 and a Breema practitioner since 1998. She specializes in holistic behavioral therapy with groups, families, individuals, as well as education, training, and clinical supervision for therapists. 
Treating people with co-occurring mental health & emotional imbalances, addictions,  and relational/ behavioral health issues, has been the primary focus of her work for the past 25 years,  as well as incorporating wellness practices via the body-mind connection into the healing process. Treating these issues at the root, has meant treating trauma– and often identifying intergenerational patterns of trauma. Treating trauma effectively means including the body in therapy. Facilitating connection between body and mind, moving toward greater agency, receptivity, an experience of  our inherent wholeness, and ultimately understanding is the emphasis of her work and treatment philosophy. 
"​BREEMA 's body based wisdom, philosophy, principles, and practical approach to living has proven to be the 'golden mean' of my own life, make such simple, good, common sense, as well as having been tried and truly beneficial to my clients over so many years, that they are both backbone and foundation of my clinical practice." 
           'Don't fight sickness, nurture vitality,
                                                     then let vitality take care of the sickness.'
                                                                   from Breema: Essence of Harmonious Life, by Jon Schreiber
Angela trained at the Breema Center in Oakland,  studied Gestalt, Body-Centered, and Somatic Therapy at Esalen Institute, and Counseling Psychology at Berkeley's Wright Institute. Facilitating connection between body and mind is central to her work with clients.
Formerly a program director at the New Bridge Foundation's residential behavioral health treatment program in Berkeley, CA,  and a primary therapist at Bayside Marin's behavioral health treatment program in San Rafael, CA, she incorporated Self-Breema, BREEMA principles, and body centered meditation into the group therapy treatment curriculum with great success; working primarily with active duty veterans, young adults and their families, couples, recovering professionals, first responders, formerly incarcerated men and women reclaiming their lives, and clients with co-occurring mental health and substance abuse issues. She also incorporated  these principles into training and supervision with her staff team at New Bridge. It was here that she discovered the body is as indispensable in the therapeutic process as it is in daily life.
​Currently she is a clinical partner at Greeting Health, an integrative wellness practice at the Breema Clinic in Rockridge, and serves as adjunct faculty at both JFK and CIIS Graduate Psychology programs, teaching and supervising clinical interns in practicum. Additionally, she travels internationally as part of the Breema Center's staff team teaching BREEMA workshops in Austria, France, England, and Spain.
Blogs by Angela Porter
Upcoming event map
The Breema Center

6076 Claremont Ave.
Oakland, CA 94618
United States

The Breema Center

6076 Claremont Ave.
Oakland, CA 94618
United States

The Breema Center

6076 Claremont Ave.
Oakland, CA 94618
United States

The Breema Center

6076 Claremont Ave.
Oakland, CA 94618
United States

The Breema Center

6076 Claremont Ave.
Oakland, CA 94618
United States

The Breema Center

6076 Claremont Ave.
Oakland, CA 94618
United States

Angela Porter

The Breema Clinic/Greeting Health Integrative Clinic
6201 Florio St.
Oakland, CA 94618
United States
Upcoming events
Articles by Angela Porter