Image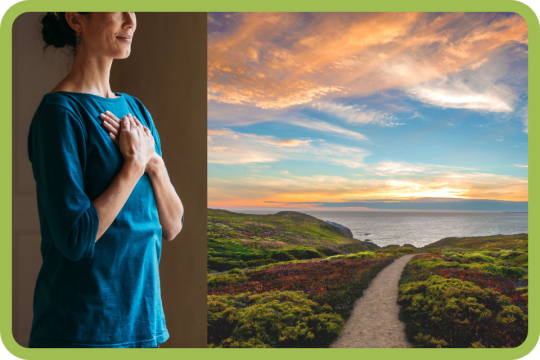 Existenzielles Grounding und Breema-Bodywork
In diesem Workshop werden wir die Rolle des Körpers als Unterstützung für
Verbindung, Präsenz und Transformation in der therapeutischen Beziehung erkunden.
Unser Schwerpunkt liegt hierbei auf der Erfahrung des Praktizierenden.
Wir erforschen die somatische Übertragung und Gegenübertragung im therapeutischen
Setting und erfahren, wie man in der Psychotherapie ein sicheres,
unterstützendes und doch dynamisches Beziehungsfeld schaffen kann, das sowohl
den Klienten als auch den Behandelnden berücksichtigt.

Durch die Kultivierung der Kohärenz zwischen Körper und Geist mit Hilfe von BREEMA - einer dynamischen, nährenden, interozeptiven Praxis - werden wir entdecken, dass der Körper, selbst im Falle eines Traumas, unser größter Verbündeter und Katalysator für eine Bewegung in Richtung Heilung und Transformation ist.
Die Körper-Geist-Verbindung unterstützt den Therapeuten dabei, präsent zu sein. Die
Präsenz lädt sowohl den Klienten als auch den Therapeuten dazu ein, mit dem, was ist, in
Kontakt zu treten und sich von dort aus zu bewegen. Probleme wie sekundäre Traumata,
Mitgefühlsermüdung, Stress und Burnout werden gemildert; eine spürbare Atmosphäre von Empathie, Akzeptanz, Nicht-Beurteilung und Lebendigkeit wird gefördert.

BREEMAs Weisheit unterstützt den Praktizierenden, die instinktive Heilungsweisheit des
Körpers zu unterstützen und die Vitalität zu fördern, anstatt sich auf Symptome von
Krankheit oder Ungleichgewicht zu konzentrieren.
Die Übungen verwenden nährende Berührungen, spannungslösende Dehnungen und rhythmische Bewegungen, um das körperliche, geistige und emotionale Gleichgewicht auf der Grundlage von neun universellen Prinzipien der Harmonie zu fördern.
Wir werden unseren Körper bewegen, lehnen, halten, loslassen.
Vorkenntnisse sind nicht erforderlich.
Freitag 17:00 - 20:00 Samstag 10:00 - 13:00 / 15:00 - 18:00 Sonntag 10:00 - 13:00
Seminarort: GLE-Institut Oberösterreich/Linz
Hasnerstraße 9, 4020 Linz
Straßenbahnhaltestelle: Herz-Jesu-Kirche (2 Minuten)
oder zu Fuß 20 Minuten vom Hauptbahnhof.
Die Seminargebühr beträgt € 290,00
Bitte bis zum 1.Mai 2023 auf das Konto bei der Deutsche Bank, Herbert Schneider,
IBAN DE69 6627 0024 0061 7431 01 , BIC DEUTDEDB662 ,überweisen.

Wir bitten um baldige Anmeldung. Die Zahl der Teilnehmenden ist beschränkt.
Wir laden Euch ganz herzlich zu dieser besonderen Veranstaltung ein.
Bitte lockere Kleidung mitbringen.
Transfer credit hours 12 und Psychotherapeutische FB Einheiten 16 (als Fortbildung für die Ausbildung anrechenbar).
Transfer credit hours
12.0
Instructors

Pari Schneider is the organizer of the Breema Center's International Intensives in Germany, and  directs several Practitioner certification groups in Germany.
He founded the Breema-Seminarhouse in Bühl-Baden and has been extensively instructing and presenting Breema in workshops and at conferences worldwide since 1990. 
For the past 25 years, he has led  workshops with Prof. Dr. med. Luise Reddemann on Breema and self-care.