Image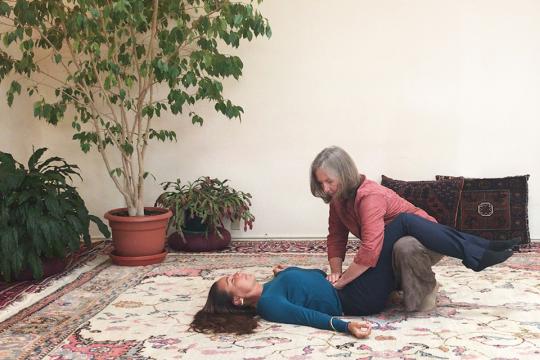 Touching the Source, Opening the Heart
---
Breema® is a body-centered, holistic approach to being present. It uses floor-based bodywork, movement exercises, and the Nine Principles of Harmony to unify body, mind, and feelings and raise our level of consciousness.

The natural movements and the non-judgmental approach introduce us to a unique quality of touch that is a direct expression of our degree of presence. When we are present, we enjoy a more openhearted and balanced relationship to ourselves, to others, and to all life.

Breema's philosophy is based on a profound understanding of the underlying unity of all life. Practicing Breema creates an experience of dynamic balance that is deeply nurturing, vitalizing, and beneficial for both giver and receiver.

This workshop is a wonderful opportunity for movement enthusiasts, bodyworkers, dancers, and anyone interested in the art of being present and a deeper understanding of life that supports harmony and wholeness in themselves and others.
More Information
Sunday, January 19,  1-4pm

$50

Open to all levels
CE: 3 hours available
For more information call 510-428-0937 or email

[email protected]
Register for the Prescott workshop here.
---
Other Breema events in Arizona
INTRODUCTION TO BREEMA IN RIMROCK
Thursday, January 16, 5:30-8pm. No charge. Details
BREEMA WEEKEND IN SEDONA
Friday, January 17, 6-8pm. No charge.
Saturday, January 18, 10am-5pm. $125.
Details
---
Instructors

Breema Center staff
Breema Clinic practitioner
Birthe Kaarsholm RSMT, CMT is a staff instructor at the Breema Center in Oakland, California where she has taught and practiced Breema since year 2000. She is a Registered Somatic movement therapist and a certified Body-Mind Centering® practitioner and Laban/Bartenieff Movement Analyst®. She works internationally and instructs Breema Intensive Seminars in USA and Europe.
Breema Center staff
Breema Clinic practitioner
Arlie Mischeaux has extensive experience teaching and presenting Breema internationally and nationally for over 24 years. She is a senior practitioner at The Breema Clinic and Instructor at The Breema Center in Oakland, CA. In addition she has been in private practice for 18 years offering various forms of massage therapy and healing arts combining indigenous healing methods.