Image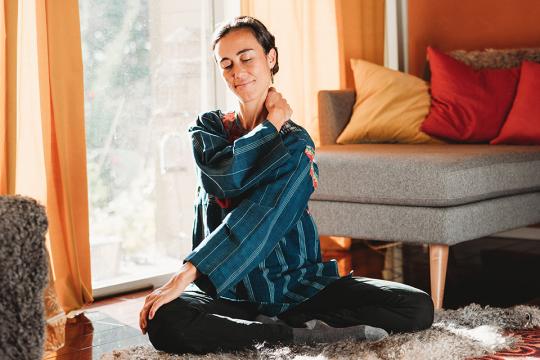 This online event begins at 8:00am PDT, 11:00am EDT, 16:00 CET, 17:00 IST.
Join us for a month of Self-Breema Mini-Classes—15 minutes, two times a day, Monday through Friday. No charge.
Self-Breema exercises include gentle stretches, energizing postures, and dynamic holds. Allowing the mind to be interested in something as simple and harmonious as the body's natural movements and the activity of the body breathing, we have an opportunity to truly connect to the body.
Find out how spending even a short time doing Self-Breema opens us to a new level of balance and vitality that is available moment after moment.
Monday – Friday
8:00 – 8:15 AM Pacific Time
11:00 – 11:15 PM Pacific Time
---
You only need to register once to attend any or all mini-classes.
Note: Due to daylight saving time taking effect between March 14 and March 28, please double check the website to see the time each class you wish to take will start in your timezone.
March 1-5 and March 8-12
 8:00 AM PST — 17:00 CET Europe/Vienna
11:00 PM PST — 8.00 CET Europe/Vienna the following day
March 15-19 and March 22-26
 8:00 AM PDT — 16:00 CET Europe/Vienna
11:00 PM PDT — 7:00 CET Europe/Vienna the following day
March 29-31
 8:00 AM PDT — 17:00 CEST Europe/Vienna
11:00 PM PDT — 8:00 CEST Europe/Vienna the following day
Need help with Zoom? Click breema.com/zoomhelp
Instructors
Breema Center staff
Breema Clinic practitioner
Arlie began receiving Breema bodywork sessions in 1994 and soon after became a Certified Breema Practitioner and Instructor.
Since then, she has dedicated her efforts to teach and reach more people with the essential, transformative method that Breema offers, via classes, workshops and private sessions.
Over the years, she has studied and travelled with a keen interest in expanding her experience and understanding of many traditional healing methods with native peoples, shamans, medicine...
Through light and rhythmic touches, holds, tapping and stretches, the Breema practice offers a joyful and nurturing way to reconnect the body and feelings with the body. Breema sessions are relaxing, reinvigorating and bring harmony into your existence.
Ioana offers a variety of natural healing modalities tailored to the patients needs.
Schedule