Image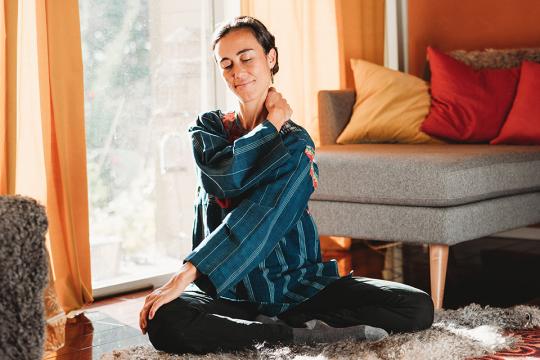 This online event begins at 8:00am PDT, 11:00am EDT, 16:00 CET, 18:00 IDT.
Join us for a month of Self-Breema Mini-Classes—15 minutes, two times a day, Monday through Friday. No charge.
Self-Breema exercises include gentle stretches, energizing postures, and dynamic holds. Allowing the mind to be interested in something as simple and harmonious as the body's natural movements and the activity of the body breathing, we have an opportunity to truly connect to the body.
Find out how spending even a short time doing Self-Breema opens us to a new level of balance and vitality that is available moment after moment.
Monday – Friday
8:00 – 8:15 AM Pacific Time
11:00 – 11:15 PM Pacific Time
---
You only need to register once to attend any or all mini-classes.
Note: Due to daylight saving time taking effect between March 14 and March 28, please double check the website to see the time each class you wish to take will start in your timezone.
March 1-5 and March 8-12
 8:00 AM PST — 17:00 CET Europe/Vienna
11:00 PM PST — 8.00 CET Europe/Vienna the following day
March 15-19 and March 22-26
 8:00 AM PDT — 16:00 CET Europe/Vienna
11:00 PM PDT — 7:00 CET Europe/Vienna the following day
March 29-31
 8:00 AM PDT — 17:00 CEST Europe/Vienna
11:00 PM PDT — 8:00 CEST Europe/Vienna the following day
Need help with Zoom? Click breema.com/zoomhelp
Instructors
Breema Center staff

Through Breema I found out, that connection to my body in a very ordinary and practical way is the key to presence and real fulfillment. My life becomes meaningfull instantly, when I taste the atmosphere of being present within, no matter where I am, in what condition my body is and what I am doing. There is gratitude for having so many practical tools given by Breema and I love to share these tools with people, who are interested in living a more meaningful life too.
Schedule