Image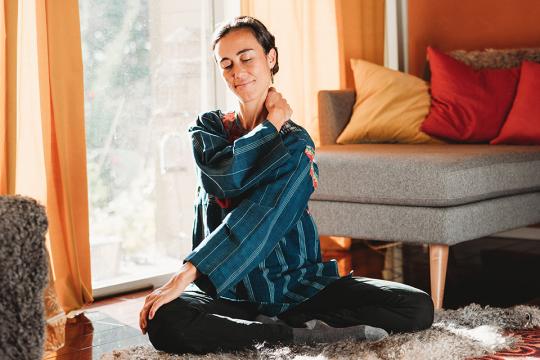 This online event begins at 11:00pm PDT, 2:00am EDT (following day), 8:00 CEST (following day), 9:00 IDT (following day).
Join us for a month of Self-Breema Mini-Classes—15 minutes, two times a day, Monday through Friday. No charge.
Self-Breema exercises include gentle stretches, energizing postures, and dynamic holds. Allowing the mind to be interested in something as simple and harmonious as the body's natural movements and the activity of the body breathing, we have an opportunity to truly connect to the body.
Find out how spending even a short time doing Self-Breema opens us to a new level of balance and vitality that is available moment after moment.
Monday – Friday
8:00 – 8:15 AM Pacific Time
11:00 – 11:15 PM Pacific Time
---
You only need to register once to attend any or all mini-classes.
Note: Due to daylight saving time taking effect between March 14 and March 28, please double check the website to see the time each class you wish to take will start in your timezone.
March 1-5 and March 8-12
 8:00 AM PST — 17:00 CET Europe/Vienna
11:00 PM PST — 8.00 CET Europe/Vienna the following day
March 15-19 and March 22-26
 8:00 AM PDT — 16:00 CET Europe/Vienna
11:00 PM PDT — 7:00 CET Europe/Vienna the following day
March 29-31
 8:00 AM PDT — 17:00 CEST Europe/Vienna
11:00 PM PDT — 8:00 CEST Europe/Vienna the following day
Need help with Zoom? Click breema.com/zoomhelp
Instructors
Breema Center staff
Angela has been a professional counselor since 1991 and a Breema practitioner since 1998. She specializes in holistic behavioral therapy with groups, families, individuals, as well as education, training, and clinical supervision for therapists. 
Treating people with co-occurring mental health & emotional imbalances, addictions,  and relational/ behavioral health issues, has been the primary focus of her work for the past 25 years,  as well as incorporating wellness practices via the body...
Raffaela Then, geb. 1987, ist Heilpraktikerin für Psychotherapie, Facilitator für Frauenkreise und Workshops zu Körper- und Stimmarbeit. Sie lebt und arbeitet in Berlin. Seit ihrer ersten Begegnung mit Breema in 2012 hat sie die Erinnerung an diesen direkten Zugang zu innerer Einheit, Klarheit und Lebensfreude nicht losgelassen, so dass sie seit 2018 Breema intensiv in ihr Leben integriert hat. In Berlin organisiert sie seit 2019 Breema-Workshops mit verschiedenen Breema-LehrerInnen an der...
Schedule