Image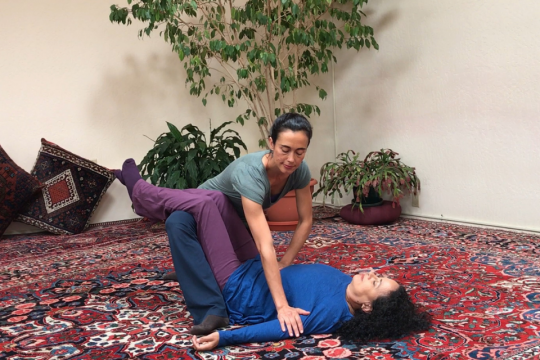 Breema - The Art of Being Present
Breema speaks the language of your Being. Practicing Breema and working with the Nine Principles gives you the possibility to create a new relationship to life. Every moment you have of being present becomes the foundation of that relationship.
Being-participation is totally new in each moment, no two tastes are ever identical, yet every taste is tangible. By coming to the body again and again, we see and understand that experience is not in our mind, not in our feelings, nor in our sensations. It is a knowledge that is rooted in Consciousness.
Workshop Date, Time, Price
• Friday, September 10, 19:00-21:00 (free)
• Saturday & Sunday, September 11 & 12, 9:30-12:00 & 14:00 - 16:30
1200 SEK for the full workshop  - 300 SEK/class
For more information and registration
Contact: Anna Holtenstam • merchi@live.se  •  +46 73-953 98 80  or click the registration link.
Payment
There are several possibilities to pay for the workshop:
• Föreningen Body-Mind Connection  bg 5302-2463
• Swish for Anna Holtenstam
• Billetto: breema.info/malmo
In a Breema workshop we work on a padded floor. Please wear comfortable clothes. Our wish is to create an environment where everyone can participate fully. As some participants may have chemical sensitivities we ask that you do not use perfume during the workshop.

We follow current COVID-19 regulations.
Transfer credit hours
12.0
Instructors
I started learning Breema in 1999 and became a practitioner in 2004. I'm interested in movement and in using the body as an aid to being present and raising my level of consciousness. Breema supports me in this. I also work with Qigong, Tai Chi, Taktil massage and Reconnective Healing.

Ulf Bräutigam lives near Örebro in Sweden. He studied Breema in Oakland, CA and has taught Breema since 2009.
Cornelia Weiß, Diplom-Psychologin in privater Praxis und Breema-Lehrerin, ist mit Breema seit 2001 unterwegs. Zunächst hingezogen zu der Erfahrung von Einfachheit, Angenommensein und innerem Frieden in der urteilsfreien Atmosphäre von Breema-Seminaren, entdeckte sie bald, dass Breema einen reichen, lebenspraktischen Zugang zu Gesundheit und Selbst-Erkenntnis bietet. Seitdem ist Breema eine wichtige Säule in ihrem Leben und in der Arbeit mit ihren Klienten geworden. Ihr Schwerpunkt liegt auf der...