Image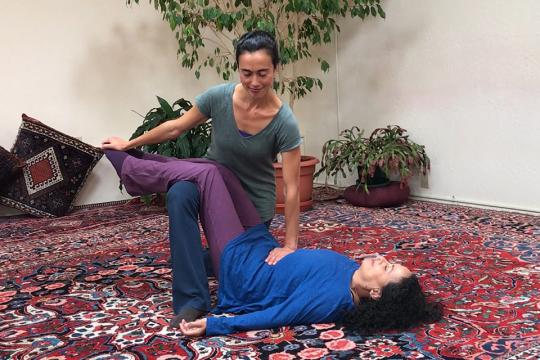 This is an in-person class series at the Breema Center.
The purpose of practicing Breema bodywork and Self-Breema exercises is to come to the present, to the taste of being present.
Working with the Nine Principles and practicing Breema gives us the possibility to create a new relationship to life. Every moment we have of being present becomes a part of the foundation of that relationship. Those moments create an atmosphere that is free from past and future, free from our conditioning. When we connect to that atmosphere, we find ourselves having new thoughts, new feelings, and a new posture toward life.
Dates and Prices
7:00 - 8:30pm every Monday

$20/ class (Certified Practitioners half price)
Open to all levels
For more information or to register in person, call 510-428-0937 or email center@breema.com
Please wear comfortable long pants and socks. No fragrances, please. 
Instructors
Breema Center staff
Breema Clinic practitioner
Elaine started studying Breema in 1991, and soon became a Certified Practitioner and Instructor. On staff at the Breema Center, she teaches classes there regularly, and has presented Breema at many outreach events to new people at workshops, conferences, health fairs, retreat centers, and other venues around the country. She has also been a Practitioner at the Breema Clinic for many years and enjoys working with new and established clients.
Blogs by Elaine Pendergrast
Moving from...
Breema Center staff
Alexis Mulhauser has 20 years of experience studying and teaching movement, including Breema, Yoga, martial arts, and dance. She is a Breema Instructor and Self-Breema Instructor at the Breema Center in Oakland, CA, and Certified Massage Therapist. Alexis also teaches dance in Berkeley and gives private bodywork sessions at the Breema Clinic and Worthy Self-Care Studio in Berkeley.  By applying Breema and the 9 Principles of Harmony in her professional path as a movement educator, Alexis has...
Schedule