Image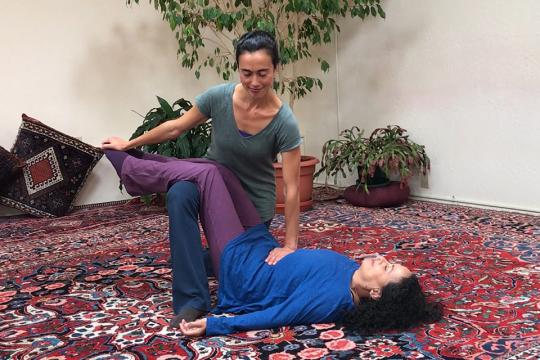 Join us for a day of Breema and Self-Breema! 
Benefit from a nurturing day of balance and harmony with Breema bodywork, Self-Breema exercises, and the Nine Principles of Harmony. 
• Self-Breema Class  11–11:45am
   No charge. Also livestreamed over Zoom.
• Breema Bodywork Workshop 1-4 pm
   $40 if paid by October 22, $50 thereafter.
Learning and practicing Breema bodywork, Self-Breema exercises, and the Nine Principles of Harmony, we learn to move, think, and feel in a new yet totally natural way. Breema helps your mind to be clearer, your feelings to be calmer and more supportive, and your body to be more relaxed, flexible, and vital.
Breema is about coming to a tangible and direct experience of your essential self. It's a practical, down-to-earth approach to being present that can bring more meaning and understanding to your life.
For more information please contact the Breema Center: 510-428-0937 or center@breema.com
Please wear comfortable long pants and socks. No fragrances, please. We will follow all current COVID guidelines.
3 CE hours available for massage therapists and bodyworkers, nurses, LMFTs, LCSWs, LPCCs, and LEPs. $10 fee for processing

.
Click the link for  more info about All Doors Are Open to the Open Heart, the in-person Self-Breema class at the Breema Center from 11-11:45am, with Ariadne Thompson and Angela Porter. No charge. Come to both for a full day of nurturing Breema support!
Instructors
Breema Center staff
Breema Clinic practitioner
Denise Berezonsky is co-author of Self-Breema: Exercises for Harmonious Life, Associate Director and Practitioner at the Breema Clinic and a Staff Instructor at the Breema Center. Denise has been working with Breema's transformational approach to life since 1989 and in continuous practice at the Breema Clinic since 1991. She teaches online, throughout Northern California and in the Pacific Northwest.
"I love giving and receiving Breema bodywork. Breema, Self-Breema, and the Nine Principles...

Breema Center staff
Alexis Mulhauser has 20 years of experience studying and teaching movement, including Breema, Yoga, martial arts, and dance. She is a Breema Instructor and Self-Breema Instructor at the Breema Center in Oakland, CA, and teaches Nia dance classes online, and private Self-Breema sessions via Zoom. By applying Breema and the 9 Principles of Harmony in her professional path as a movement educator, Alexis has found Breema to be an essential tool to support and nourish her daily life, and wishes to...