Image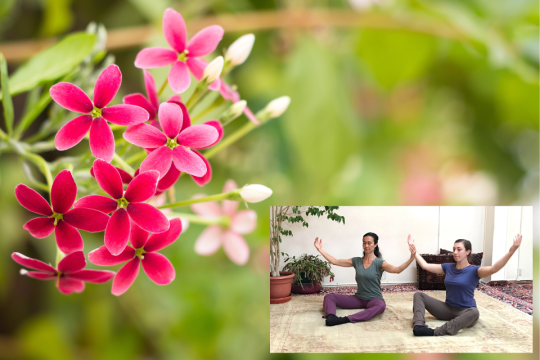 This online event begins at 9:00am PST, 12:00pm EST, 18:00 CET, 19:00 IST.
International Breema Week 2023
More than ever before, we need to meet life from a foundation of body-mind connection. Then we can move in the direction of actualizing our natural potential to support harmony in our relationship to ourselves, to others, and to all life.
For nine days, we will explore the practice of Self-Breema as a catalyst for greater Self-understanding and more ability to support life around us. Join us in experiencing Breema's practical approach that can balance body, mind, and feelings, nurture your relationships, and bring more meaning to your life. 
---
Participate in International Breema Week
Find a full list of online, in-person, and international events here:
Inspiration and Self-Breema Videos for each day
To support the practice of Breema in our life, each day participants can signup to receive an inspiration and Self-Breema video via email.
New Student?
If this is your first time doing Self-Breema online, find helpful tips and guides prior to attending your first online class. To minimize any technological difficulties, please be sure you are using the latest version of Zoom. Need help with Zoom? Click breema.com/zoomhelp
Schedule of Events
For more information and to register for in-person events, click on the link for the event below.
ALL TIMES ARE IN PST–Pacific Standard Time.
Saturday, January 7
11:00–11:45am        Saturday IBW Class — Online Class
10:00-12:00pm    Introduction to Breema Bodywork — In-person Class at Hummingbird Valley    
SUNDAY, JANUARY 8
10:30-1:00pm      Introduction to Breema Bodywork — In-person Workshop at the Breema Center
11:00–11:45am      Sunday IBW Class — Online Class
MONDAY, JANUARY 9
9:00–10:00am     Monday IBW Class — Online Class
7:00–8:30pm       Breema: The Art of Being Present — In-person Class    
TUESDAY, JANUARY 10
9:00–9:30am       Tuesday IBW Class — Online Class
7:00-7:50pm        Tuesday Evening Class — Online Class
WEDNESDAY, JANUARY 11
9:00–9:30am      Wednesday IBW Class— Online Class  
THURSDAY, JANUARY 12
9:00–9:40am       Thursday Intro to Self-Breema Class — Online Class 
10:00–10:45am    Thursday IBW Class — Online Class  
FRIDAY, JANUARY 13
9:00–9:30am     Friday IBW Class — Online Class 
SATURDAY, JANUARY 14
9:00–9:45am        Saturday IBW Class — Online Class   
9:30–5:00pm       Breema Weekend Workshop at the Breema Center — In-person Workshop    
SUNDAY, JANUARY 15
9:00–9:45am       IBW Special Workshop: Transforming Loss & Grief — Online Class
10:00–10:45am    IBW Special Workshop: The Heart Opens in the Moment — Online Class
11:00–11:45am       IBW Special Workshop: Harmonizing Our Relationship with Life — Online Class
9:30–5:00pm       Breema Weekend Workshop at the Breema Center — In-person Workshop