Image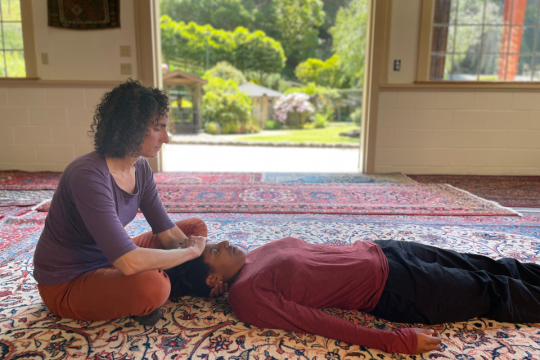 Breema bodywork mini-sessions
Experience Breema bodywork at our Rockridge Open House
Offering complimentary mini-sessions
---
The Breema Center welcomes our Rockridge neighbors and friends to drop in to our upcoming Open House event. These events are a great opportunity to receive a complimentary Breema bodywork mini-session from one of our Certified Breema Instructors, and experience the grounding, nurturing, and vitalizing effects of Breema. You will also have a chance to meet some of our staff members, and to learn more about Breema and all the different ways you can benefit from treatments, classes, and longer workshops offered at our locations in Rockridge.
The Breema Center has been a part of the Rockridge community since 1981. At the main office and classroom on 6076 Claremont Avenue, we offer seasonal Intensives, weekend workshops, and ongoing weekly classes to explore Breema through working with body-mind connection and the Nine Principles of Harmony. The Breema Clinic and the Greeting Health Clinic at 6201 Florio Street offer Breema bodywork, somatic psychotherapy, and Integrative Family Medicine, all based on the major focus of Breema, which is: "Don't fight disease, nurture vitality."
Receiving Breema and practicing Self-Breema movement exercises support the unification of the body, mind, and feelings. As these three come together, they begin to function naturally, and we become receptive to finer consciousness. This becomes our entry into

real

health, which means harmony with Existence.
Instructors