Image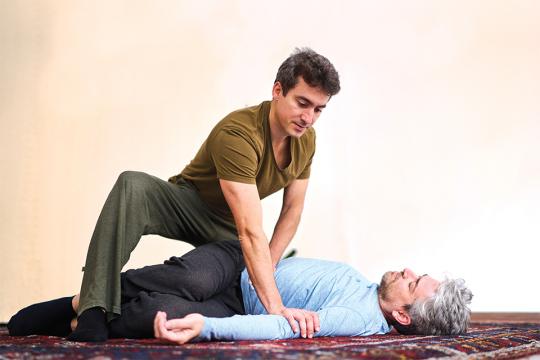 Whether you are currently considering becoming a Certified Breema Practitioner, are totally new to Breema, or are an experienced student, this weekend is a perfect opportunity to nourish your body, mind, and feelings through Breema bodywork, Self-Breema exercises, and Breema's universally applicable practical philosophy.
To support others, we must first learn how to support ourselves. Breema offers a foundation by which one can learn to relate to any experience ("good" or "bad") from the strength of body-mind connection. This directly addresses burnout by offering tools to return to oneself, renew energy, and discover the well of support and vitality available within the body.

In this retreat weekend, we will look at Breema through the eyes of The Four Relationships: our relationship to our physical body, to the outside world, to ourself, and to our True nature. Each one of these relationships offers us insights into how we can function more harmoniously within ourselves, in our professional lives and with our communities.
You can participate in the entire weekend, or attend just one or a few of the four workshops. Pre-registration is required. Call or email the Breema Center for more information. 
We follow current California State and Santa Cruz County COVID guidelines.
CE is available for massage therapists and bodyworkers, nurses, LMFTs, LCSWs, LPCCs, and LEPs. $10 fee for processing

.
Weekend Schedule
Saturday:   9:30 am-12:30 pm    2:00-5:00 pm
Sunday:      9:30 am-12:30 pm    2:00-5:00 pm
Cost
10% discount if paid by August 31
$210 for the weekend ($189 if paid by August 31)
$60 per 3-hour workshop ($54 if paid by August 31)
Meals are not included. Contact the Breema Center for a list of accommodations.
The 12-Month Breema Practitioner Course consists of one weekend a month for a year, with some flexibility for those who cannot attend each workshop or are outside the Bay Area.
If you will be taking many of the monthly weekends, you can also pay quarterly or annually. Full payment (at any level) by the last day of the previous month includes a 10% discount.
Instructors
Director of the Breema Center and Breema Clinic
Jon Schreiber, D. C., director of the Breema Center and Breema Clinic in Oakland, California, has been teaching Breema in the U.S. and internationally since 1980. He has presented Breema at medical, psychology, bodywork, exercise, holistic health, and personal growth conferences. His numerous articles and books focus on the universal and practical philosophy of Breema. In his clinical practice, Dr. Schreiber uses Breema, Self-Breema, and the Nine Principles of Harmony to help patients discover...
Breema Center staff
Breema Clinic practitioner
I am a Family Physician, and have been a Breema Practitioner and Instructor for over 20 years. I have found Breema's non-judgmental atmosphere to be invaluable in working with any health condition. I am consistently amazed at the effect of Breema bodywork, Self-Breema exercises, and Nine Principles of Harmony in increasing vitality, addressing acute concerns, and offering new templates for relating to body, mind, and feelings. I began working as a Practitioner at the Breema Clinic in 2002, and...
Schedule